Looking for some easy snack ideas? Here are the best Costco snacks for kids that you should totally grab on your next trip!
We are big Costco shoppers. It's a great way to stock up on things that we work through quickly.
One thing that goes quickly in our house is snack food. My kids are little but their "snack bellies" are bottomless. And yes – my 3 year old says he has 1 belly for dinner and another belly for snacks.
There are tons of great snacks to buy at Costco, but I wanted to round up some of my favorites for you today!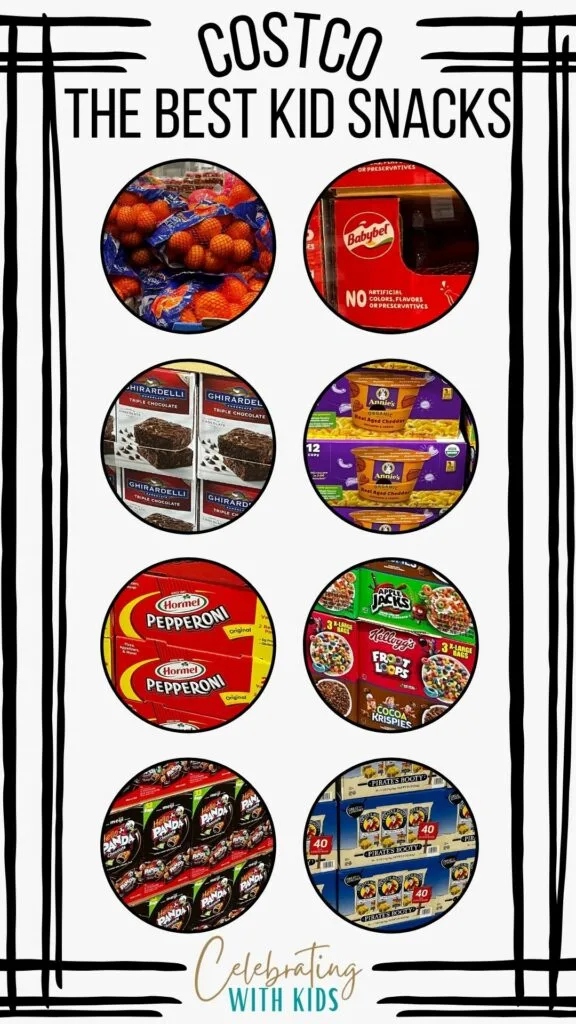 Best Costco snacks for kids
Here are the best kid snacks at Costco – broken up by healthy and less healthy!
Healthy snacks from Costco
Fruit
The easiest healthy snack at Costco is fruit. My kids love cuties, apples, pineapples (by far the best price on whole pineapples!), bananas, berries, and watermelon when they have them.
I'd just suggest you be realistic and keep in mind which fruits keep longer. Berries can mold very quickly, and the raspberries and strawberries especially so. Don't over buy and waste food!
If your kids will eat veggie sticks, there are also tons of them (and dips) as well!
Fruit cups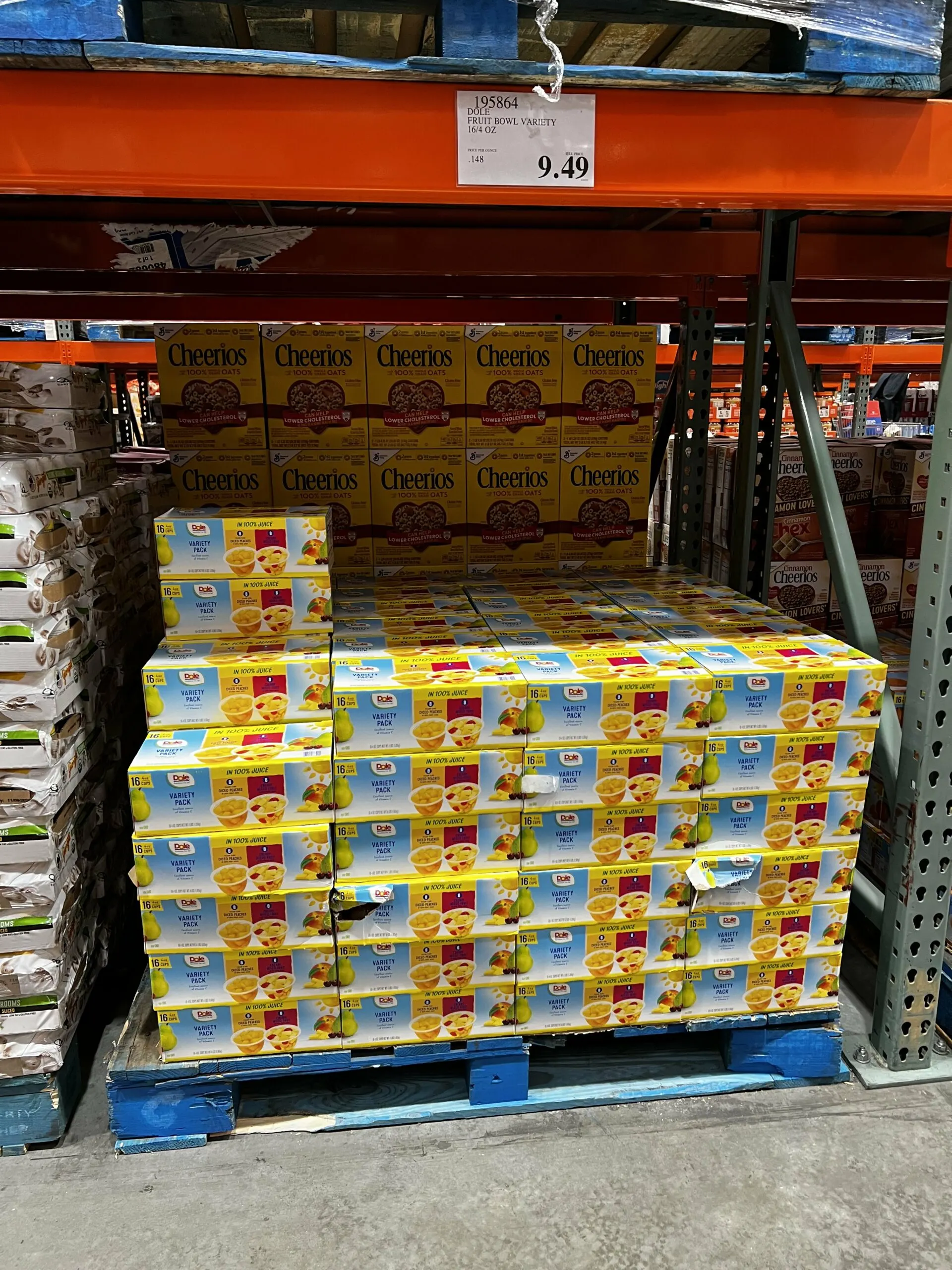 Not quite as good as fresh fruit but my go to in the winter are these fruit cups. This is a great deal on them and my kids gobble them up!
Yogurt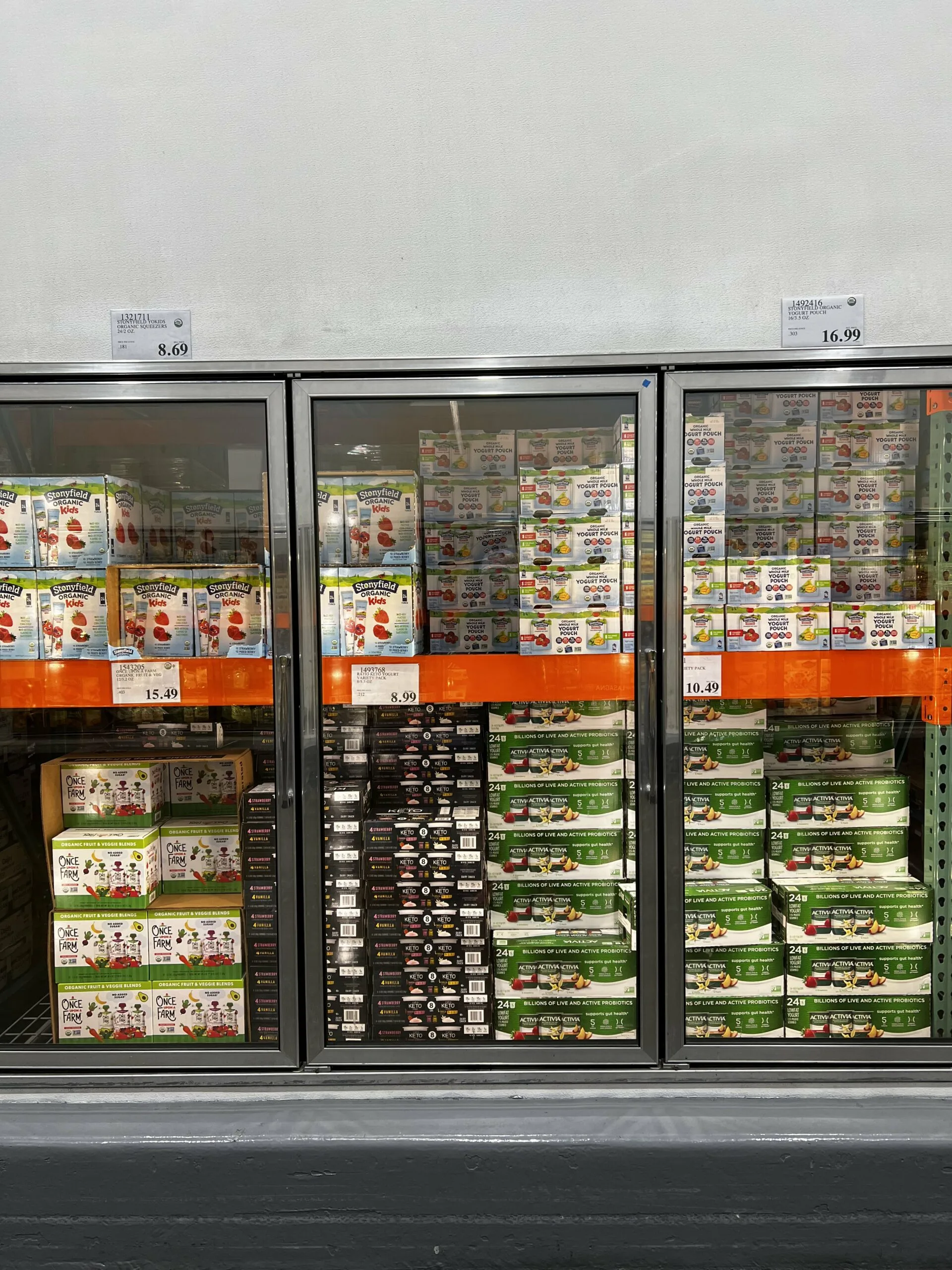 My kids each eat a whole milk yogurt pouch for breakfast every morning. Those things are like over $1 each at the grocery store, and a much better deal at Costco. We buy 2 boxes on each of our monthly trips.
Applesauce pouches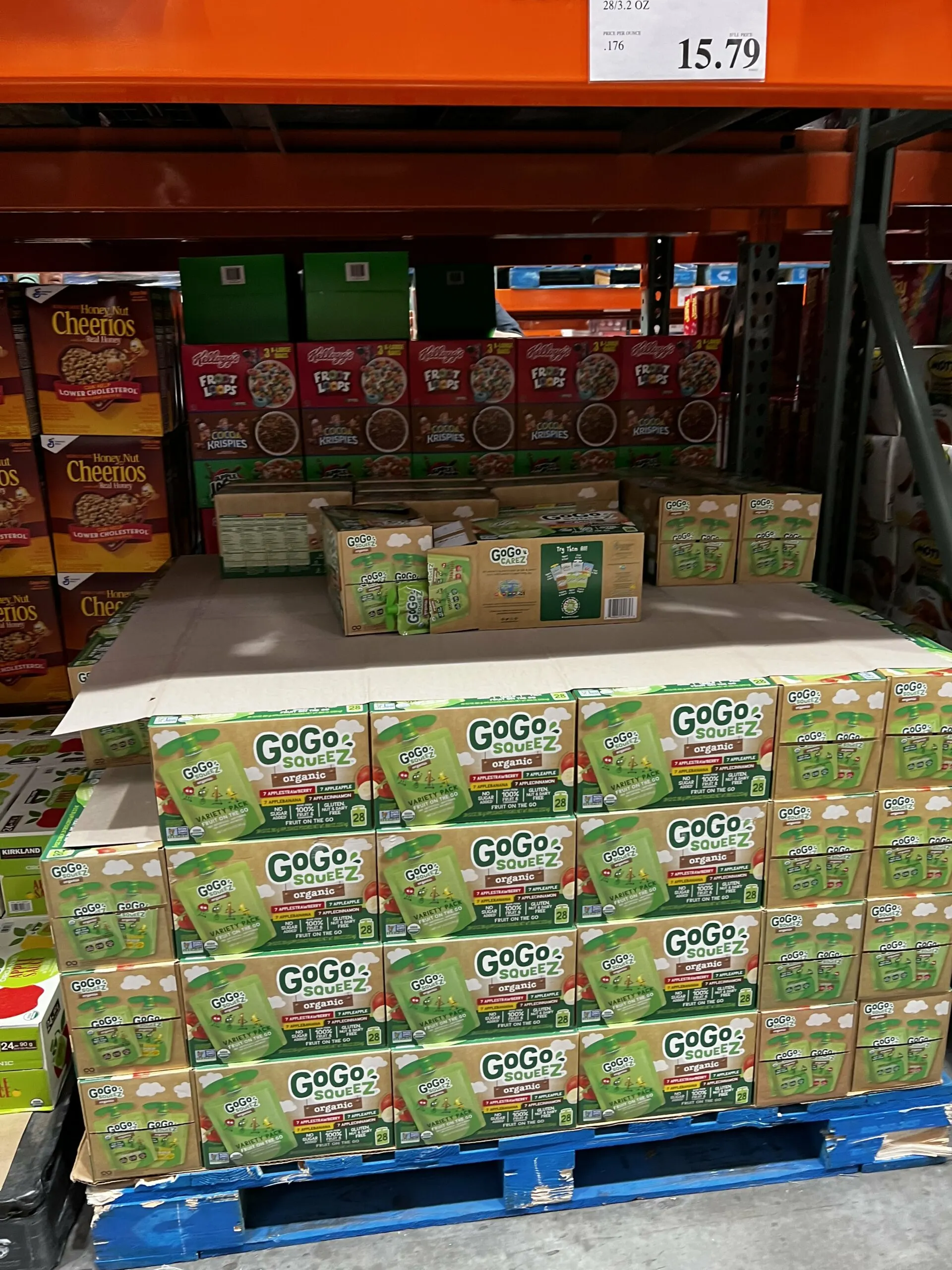 These pouches are my top go to to go snack for toddlers. Easy to eat, relatively healthy, and usually zero mess. Costco has the best price per pouch that I've seen by far.
We usually buy the Kirkland store brand but sometimes the name brand is cheaper (and the lid is easier for kids to open – if that's good or bad for you!)
Cheese + crackers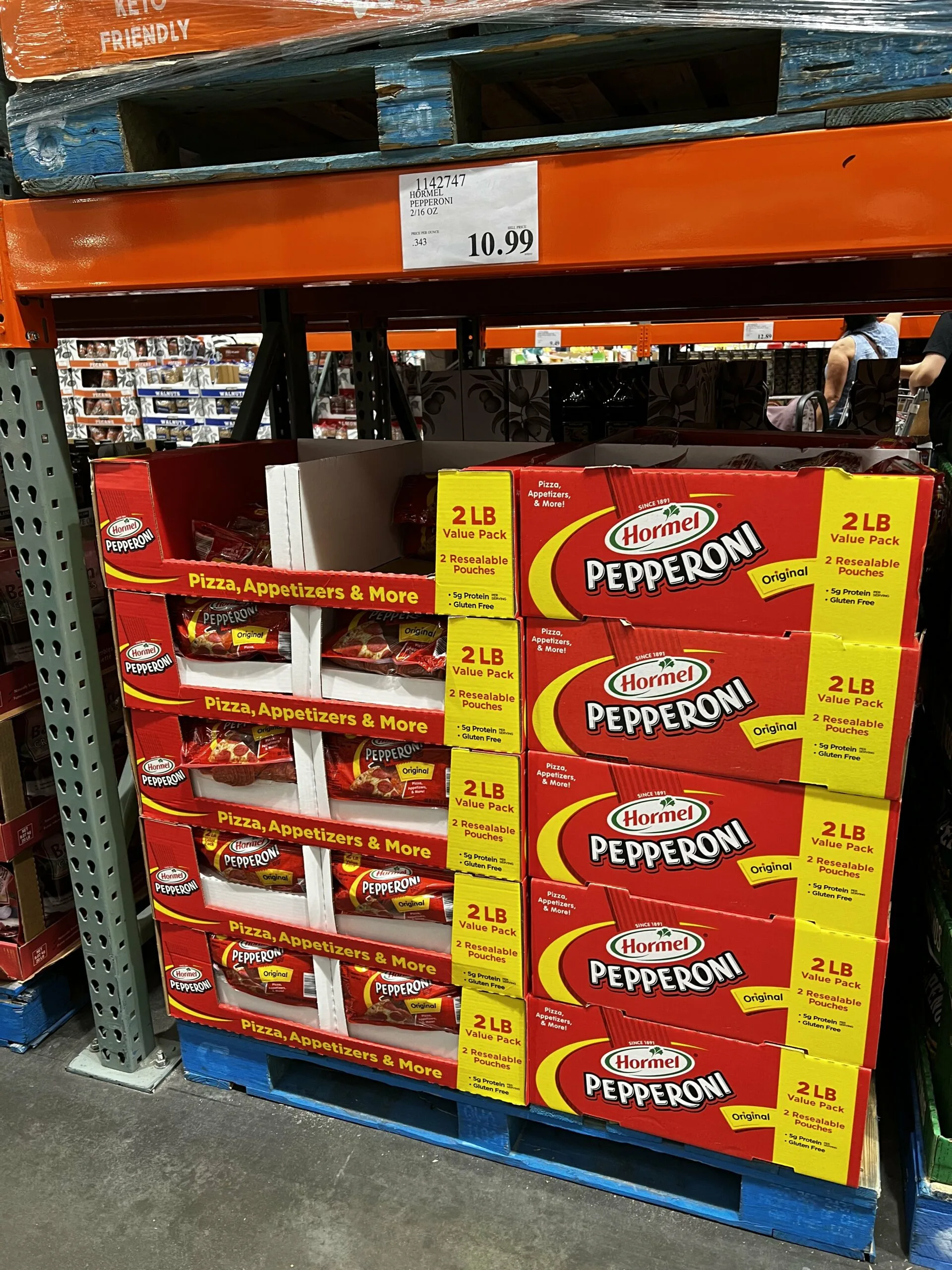 We always grab block cheese, crackers, and pepperonis. I call it my "homemade lunchables" and it's one of my kids top requested lunches. Such an easy Costco toddler food!
Babybel cheese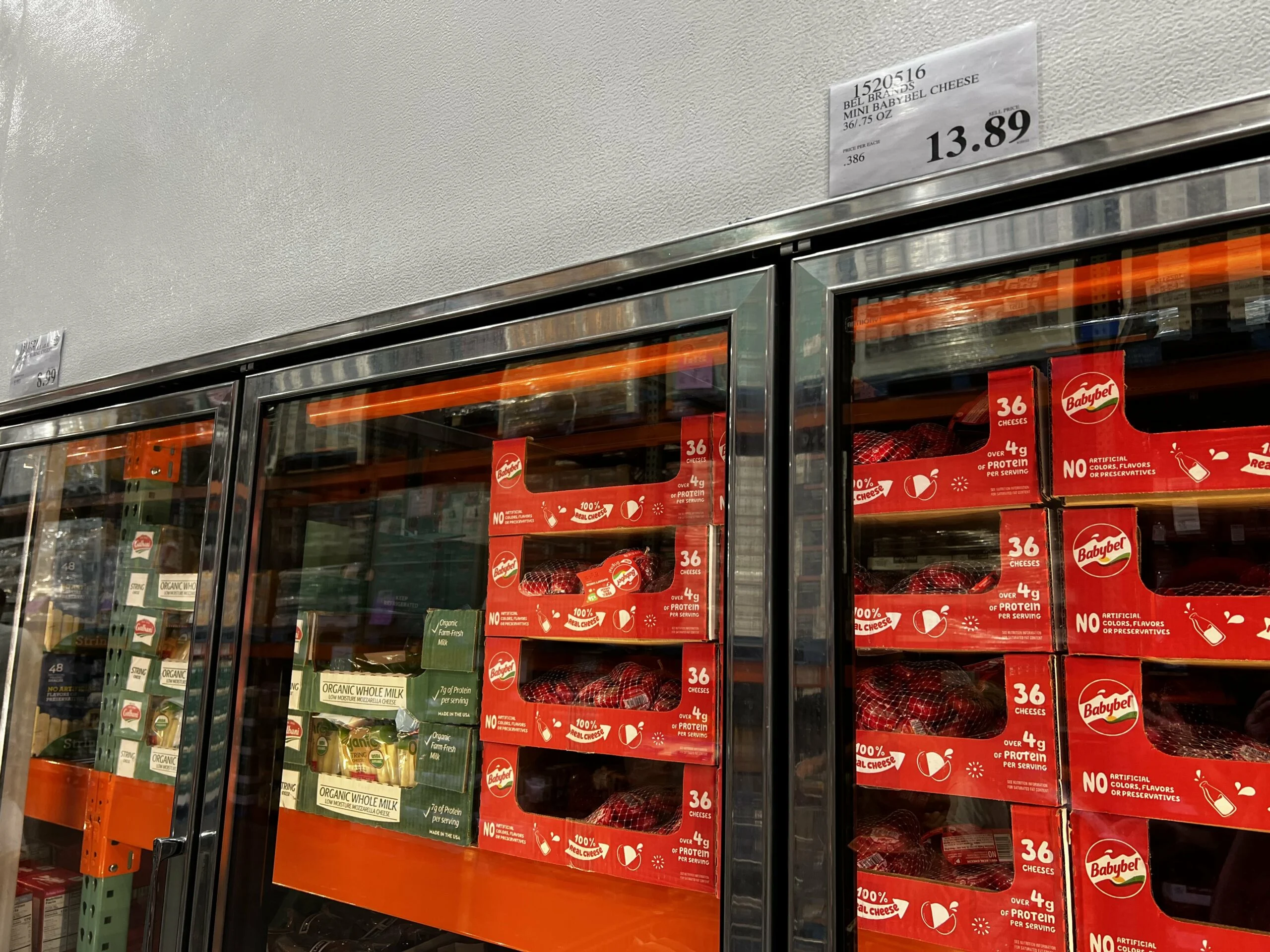 Babybel cheeses are great for grab and go or serving with meals. My kids love peeling them. They are another thing that is super pricey at the grocery store, but more reasonable at Costco.
Trail mix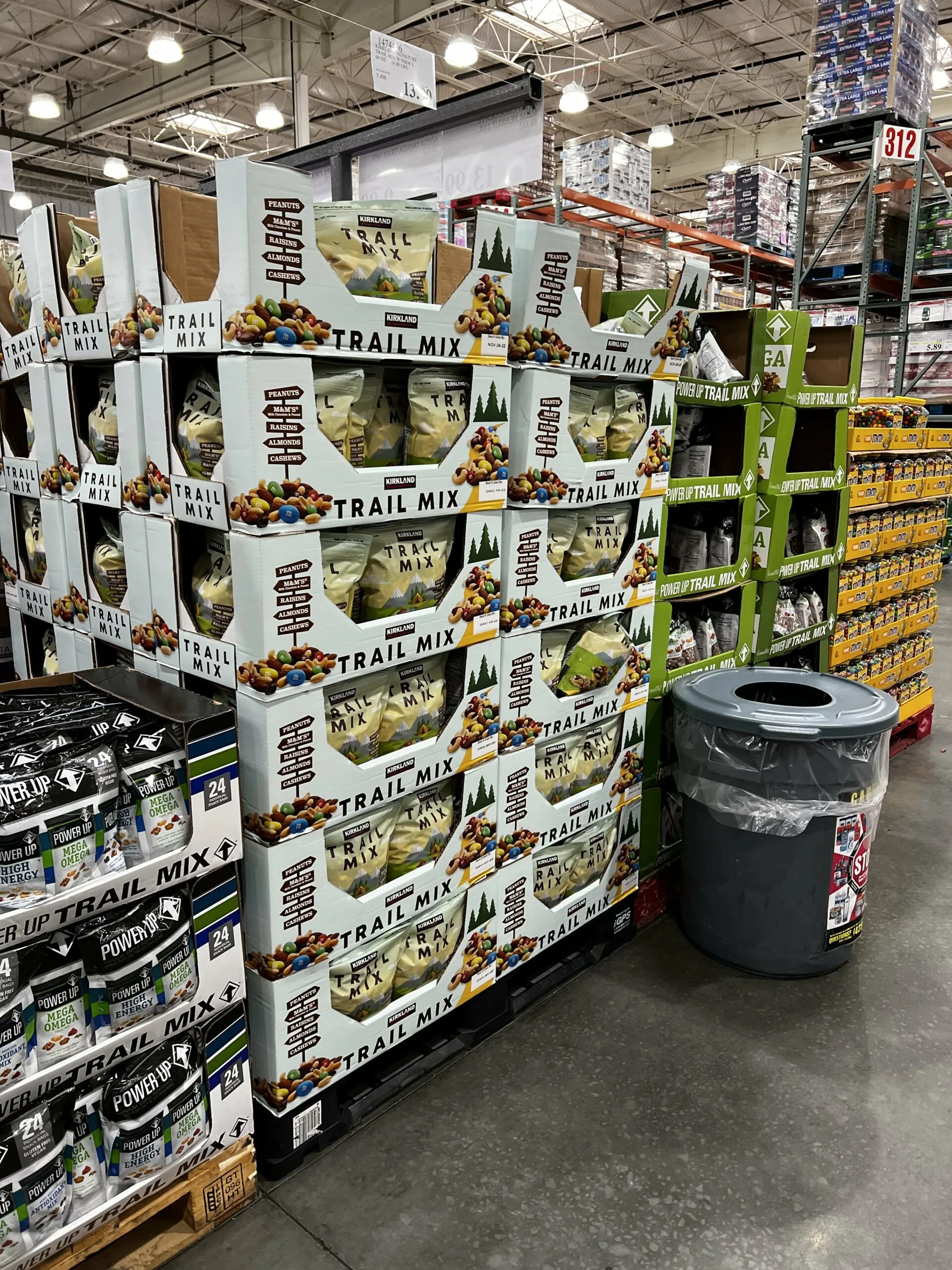 I really like munching on trail mix. My kids like the kind with M&Ms in it, while I prefer the Omega blend which is almonds, walnuts, dried fruit, and chocolate.
There are also tons of granola bars by the trail mix. Some are healthier than others, use your judgment for what will work for your family!
Veggie Straws
Ok, I'm not sure if these are really classified as healthy, but they are a healthier alternative to chips. My kids get something crunchy for lunch every day, and this is a favorite.
Beware – the huge Costco bags will get stale if not eaten in a couple of days. Great for parties, but for everyday use the individual packs might be better for your family!
Belvitas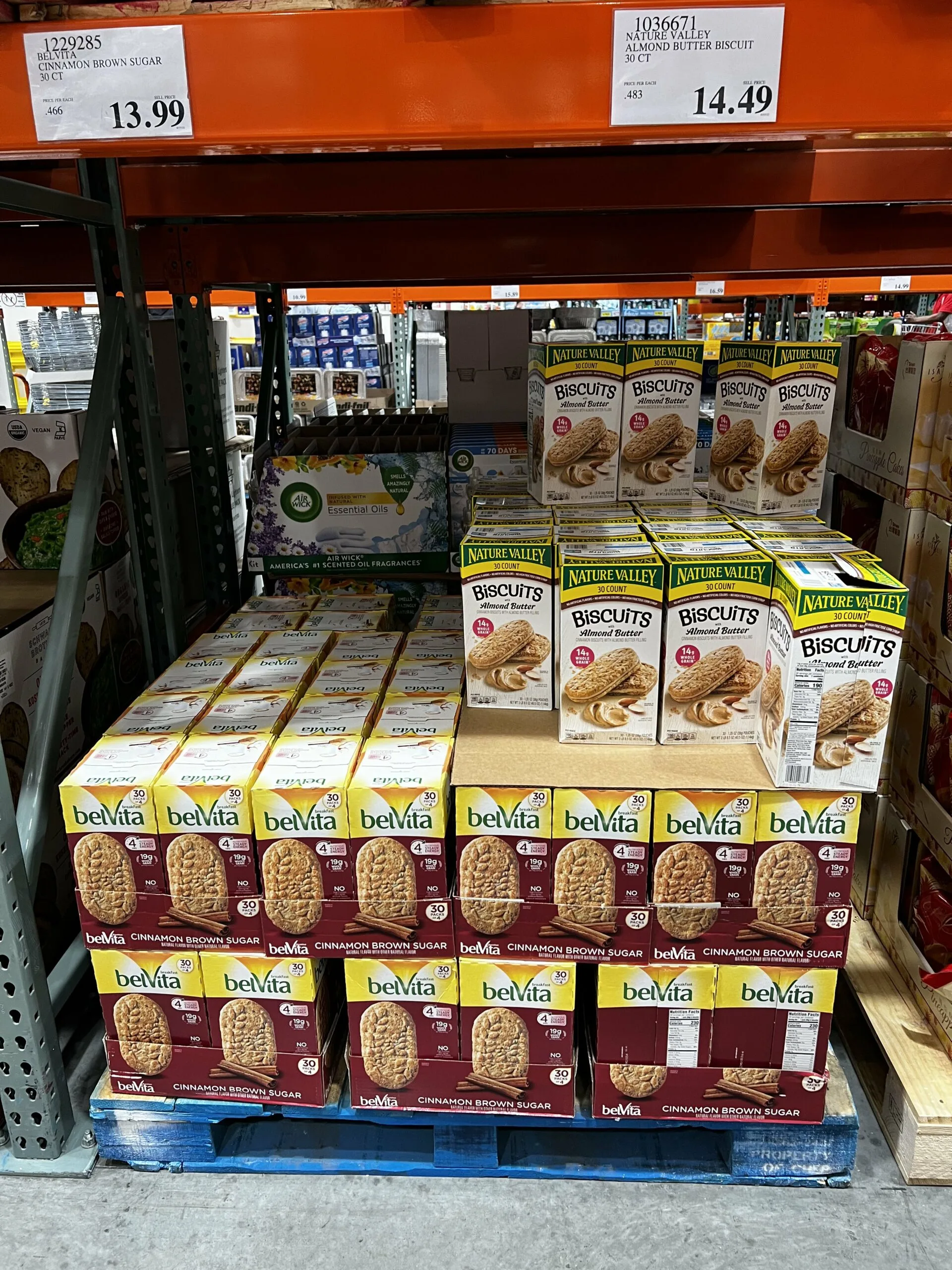 Another one, idk how healthy it is, but it's probably better than an oreo. These are a great breakfast option that we pair with fruit and a yogurt pouch.
Costco has a lot of variety of these – the sandwich ones with peanut butter in the middle are my favorite but my kids just like the plain ones!
Other Costco kid snacks
Mac and Cheese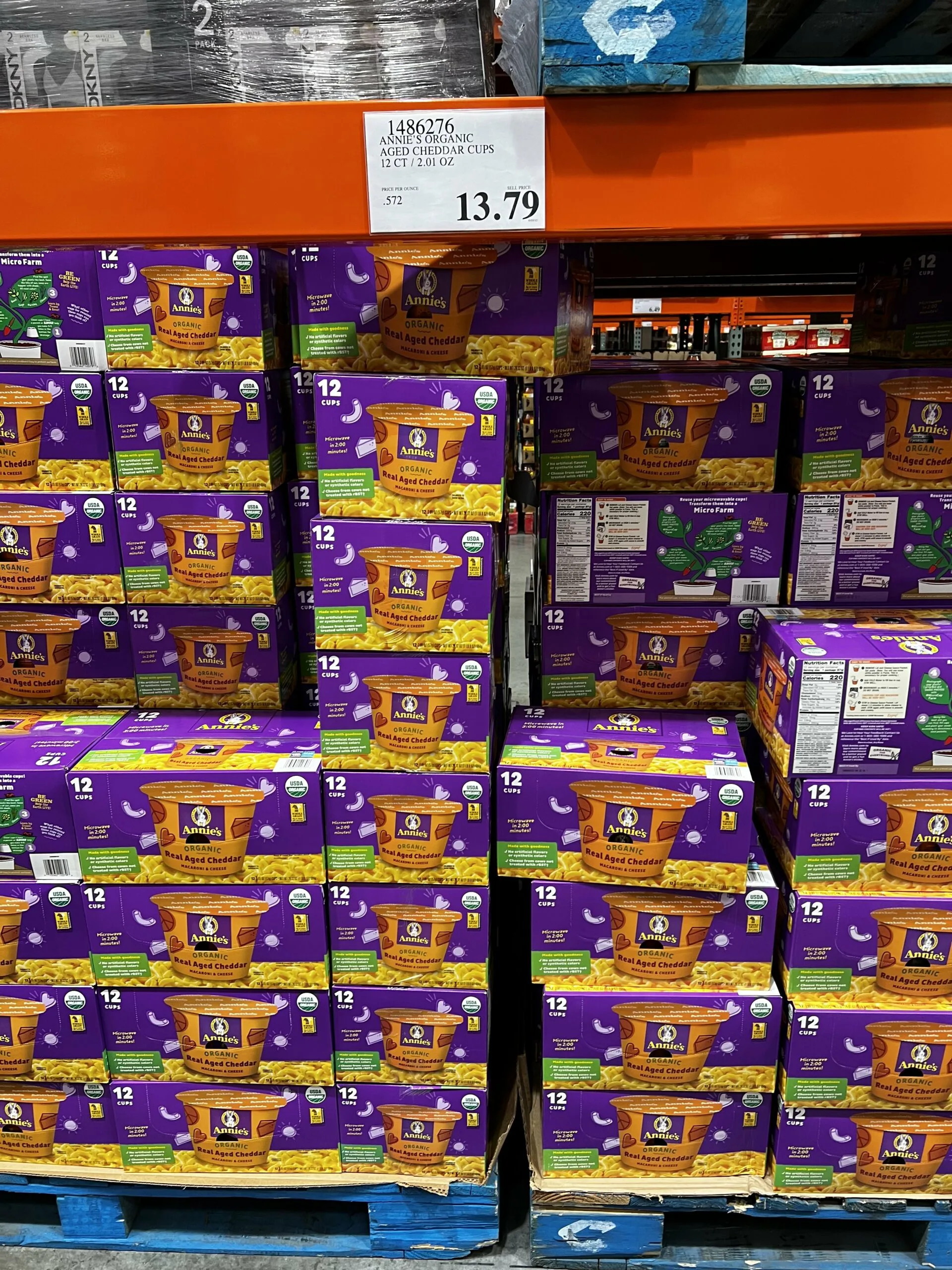 Annie's mac and cheese is the GOAT. Costco has it in boxes and these little cups. I'm sure we will get the cups when my kids are older, for now we stick to boxes. I'm team #whiteshells but my child is very firmly #orangeelbows
Pancakes and waffles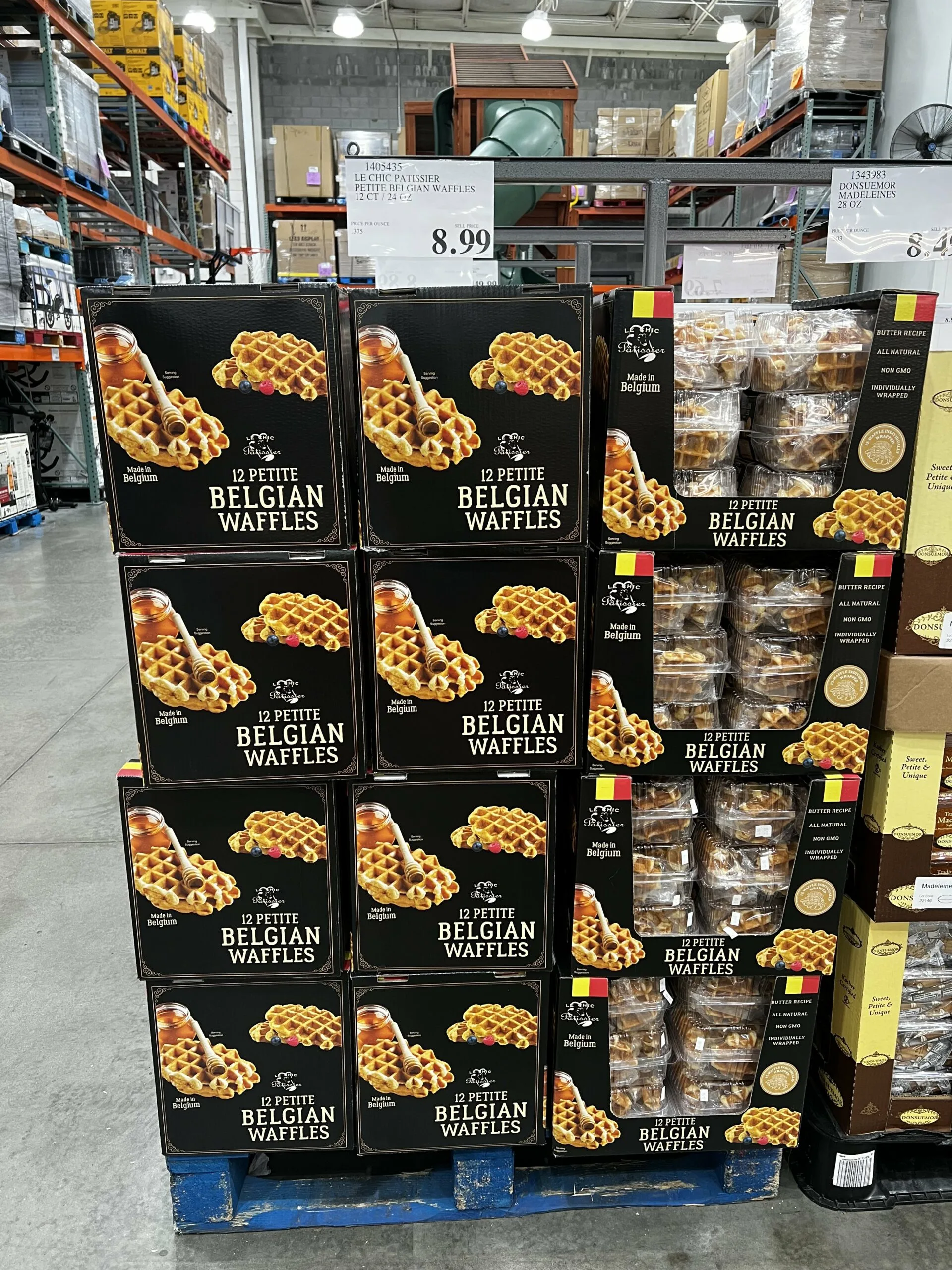 The above Belgian Waffles and the pre-packages mini-pancakes are something that we started buying after our kids love the samples. You could eat them as breakfast, but we mainly use them as a grab and go snack option.
Chicken Nuggets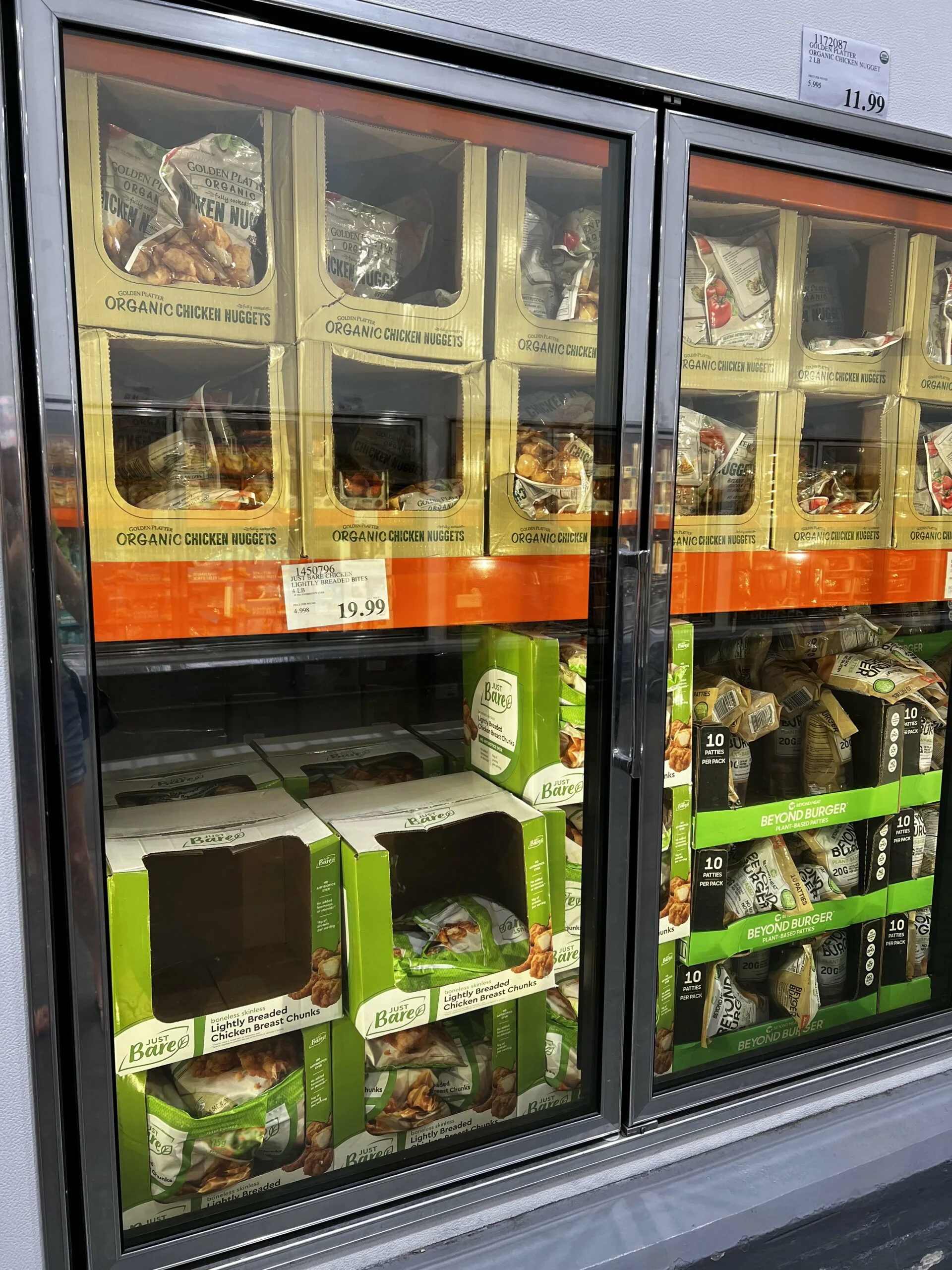 Frozen nuggets are a go to meal for us when the kids don't want what we are eating. You see these green bags? Those are the BEST nuggets, they taste just like Chick Fil A!
Cereal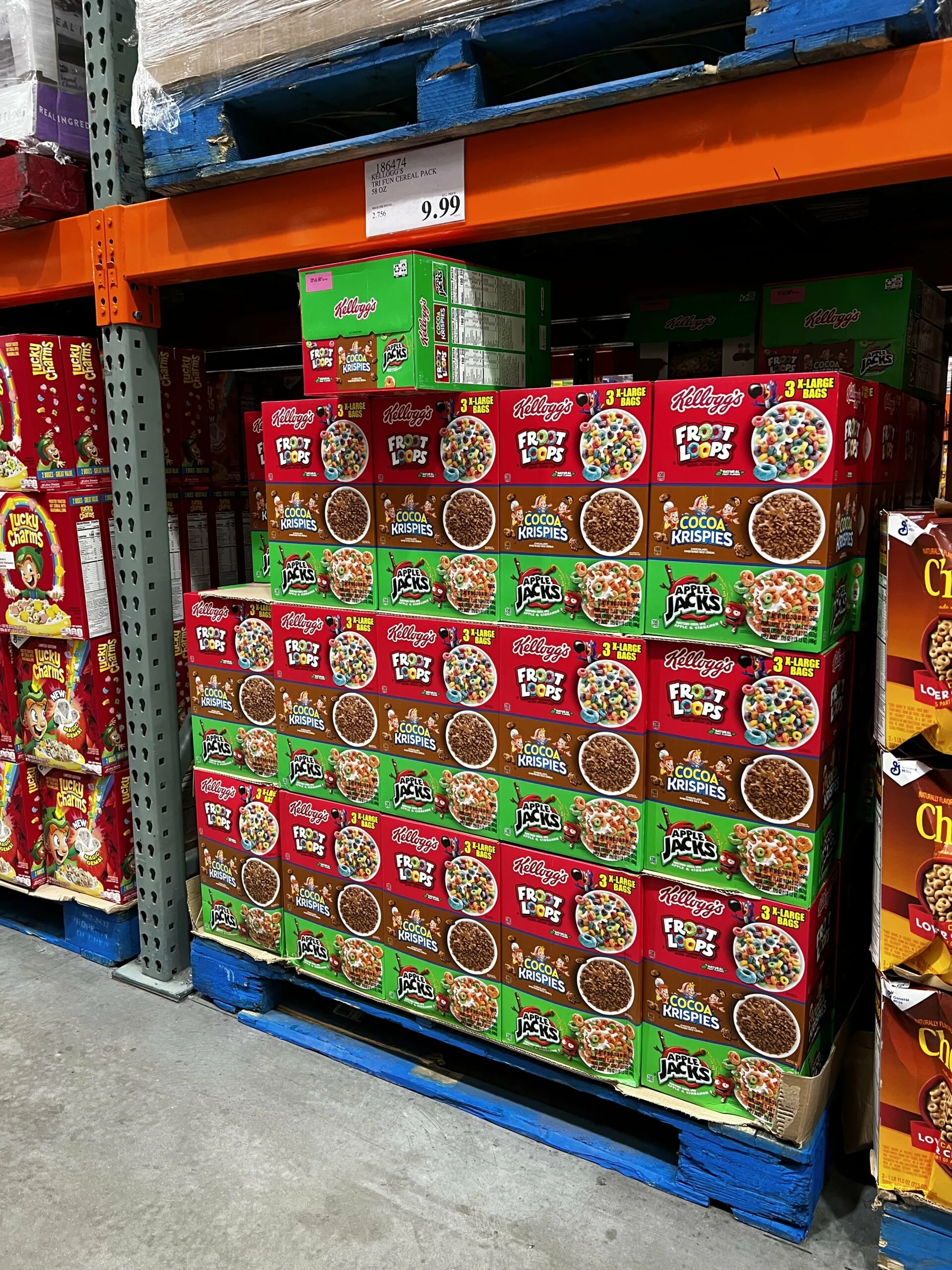 Costco sells cereal in the big boxes, double boxes, and small cups. Depending on how often your kids eat cereal, the big boxes could be great. For us, they go stale. The mini cups are great for snacking on the go!
Animal crackers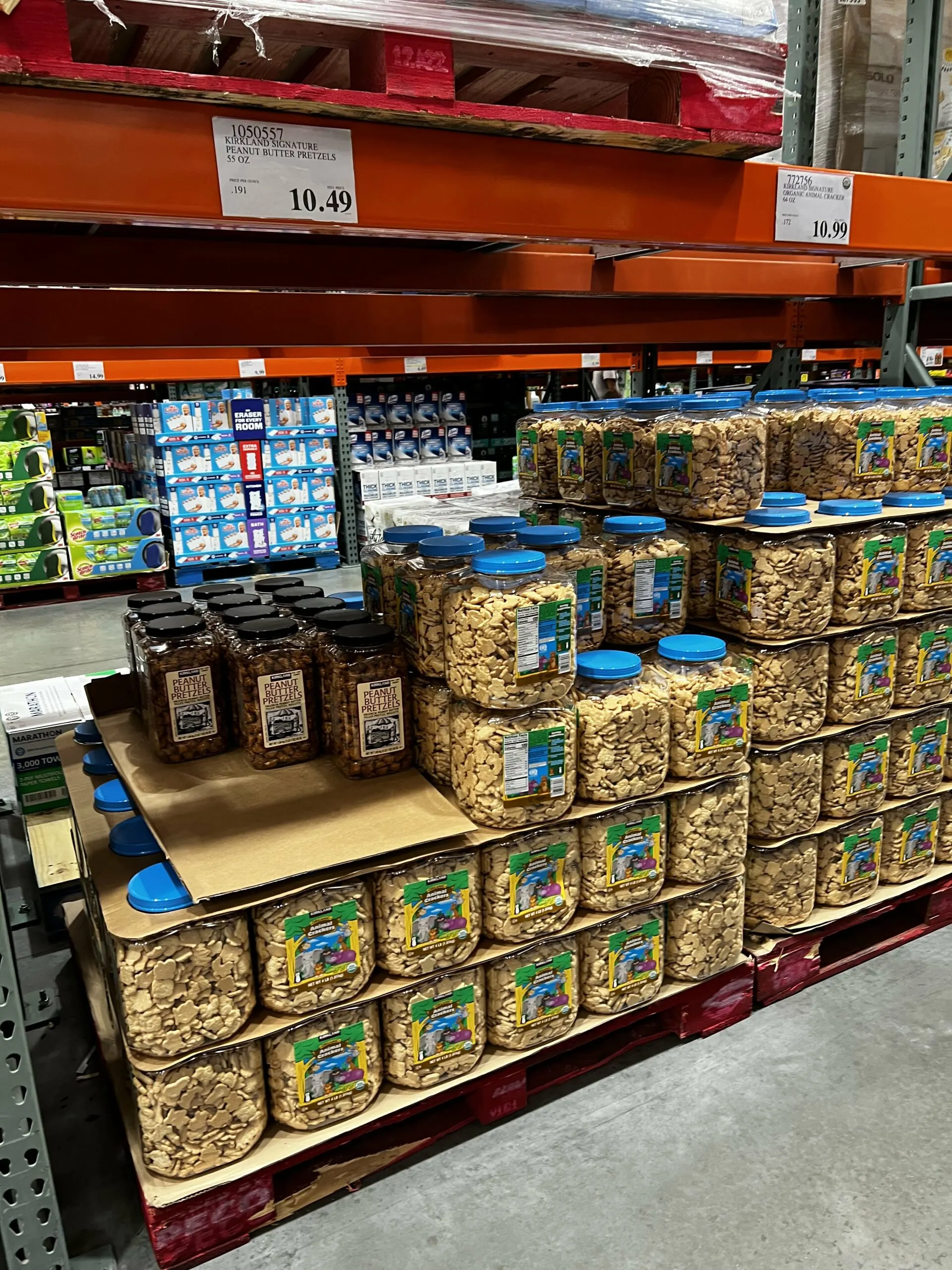 These are another snack that my kids love but the container is HUGE. Beware – they will go stale. They are great for parties or heavy snackers, but don't buy them if you can't eat them in about a week.
Brownie mix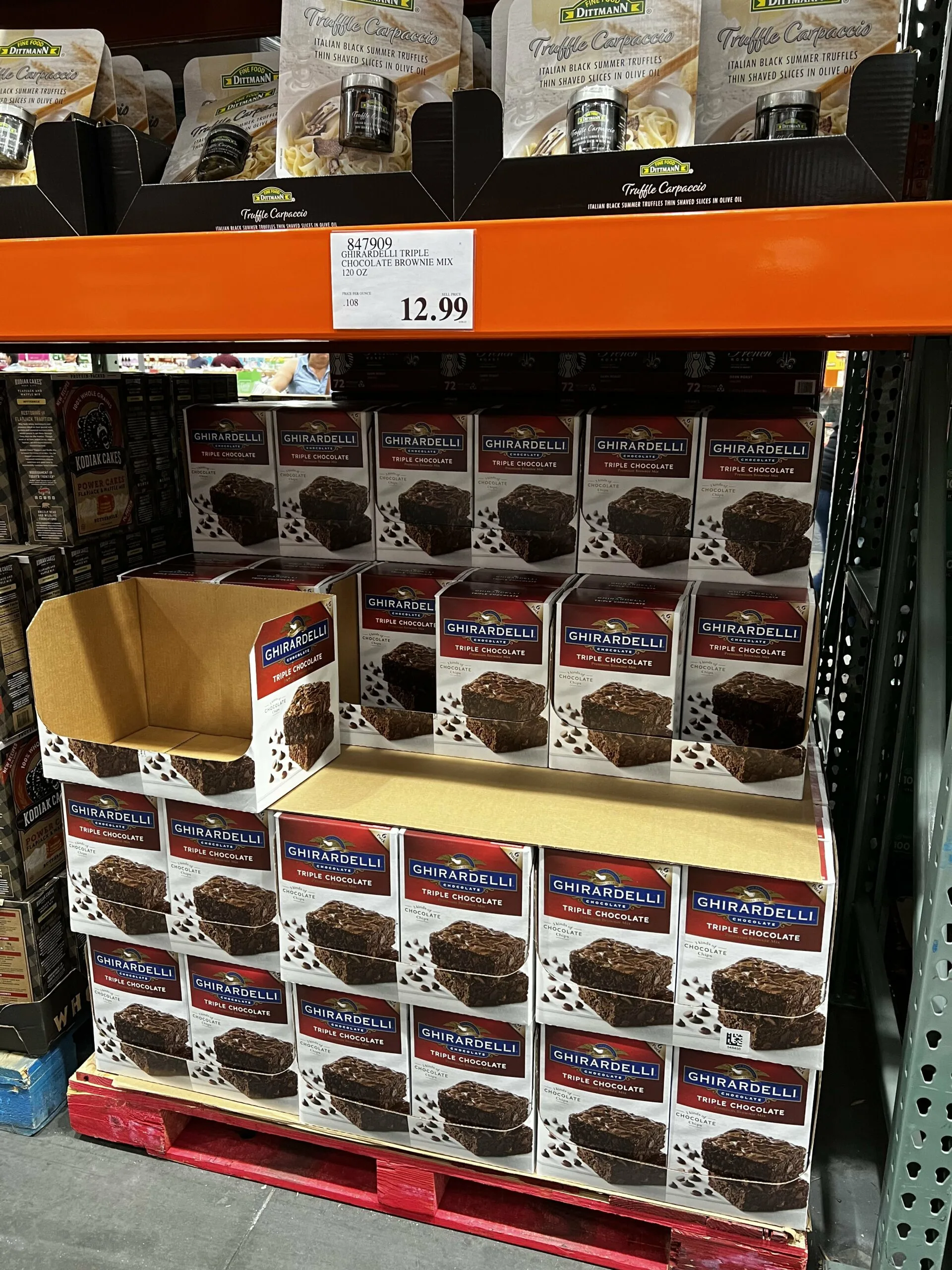 My kids love to bake and you can't beat these Ghiradelli brownie mixes. Seriously, so so good!
Hello Panda cookies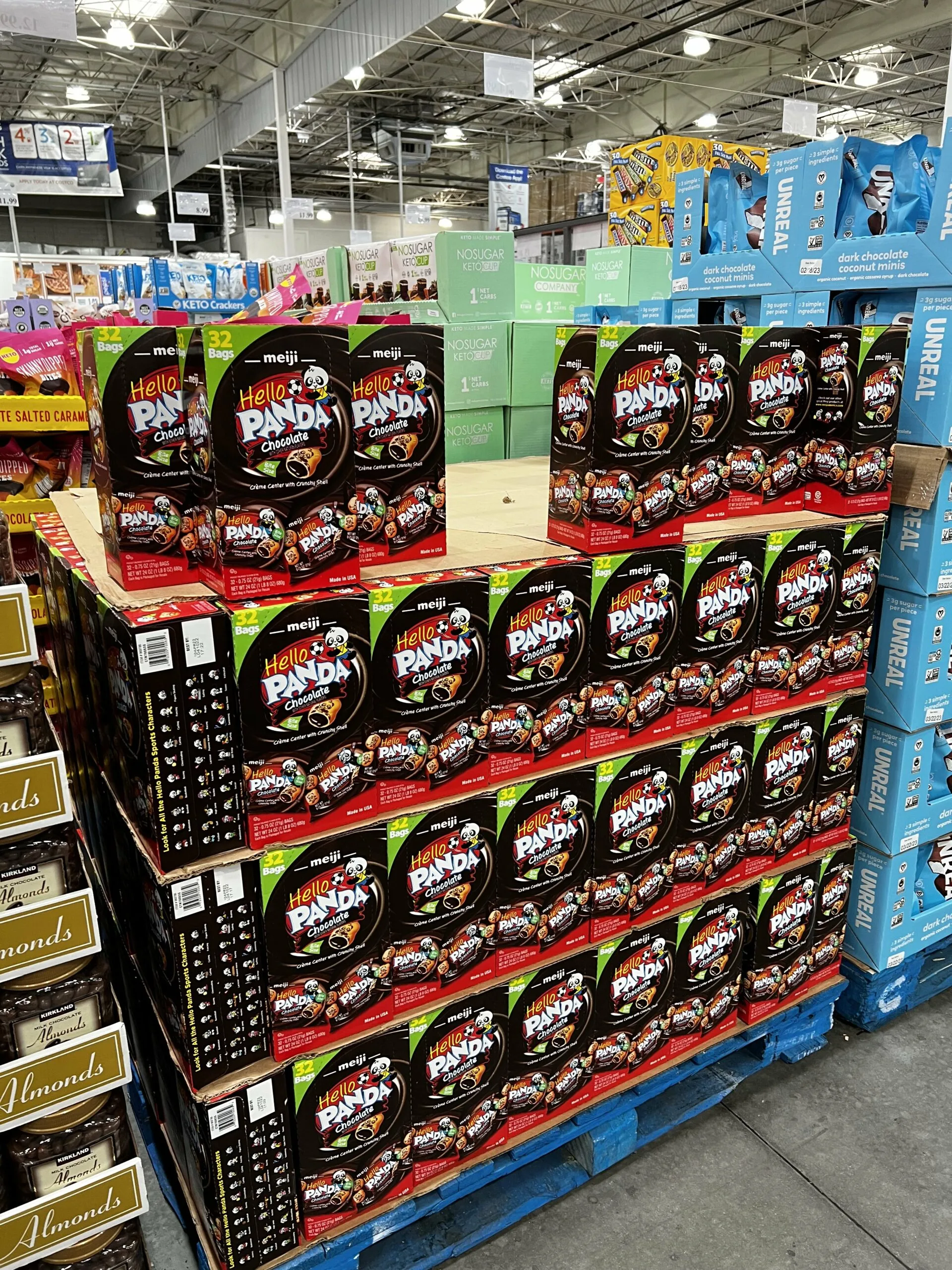 These little bite sized cookies each have a chocolate filling. They are my toddler's #1 favorite snack. They are shockingly good, and there's only like 5 in each pack so it's not too much at once!
Mini muffins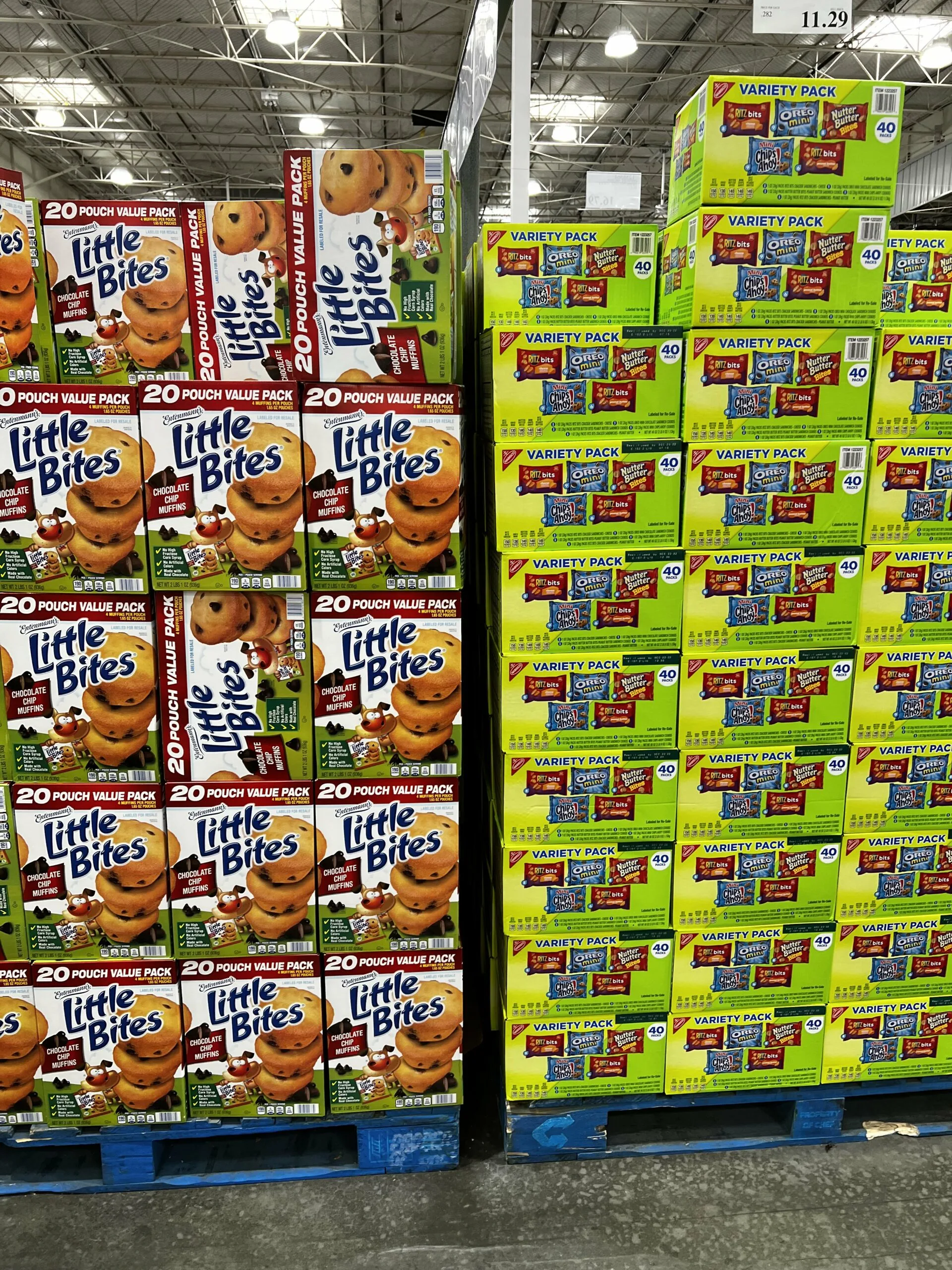 Little bites mini muffins are another favorite around here. Warning: there are only 4 mini muffins per pack, so it's a better serving size for a toddler than a big kid!
Pirate's Booty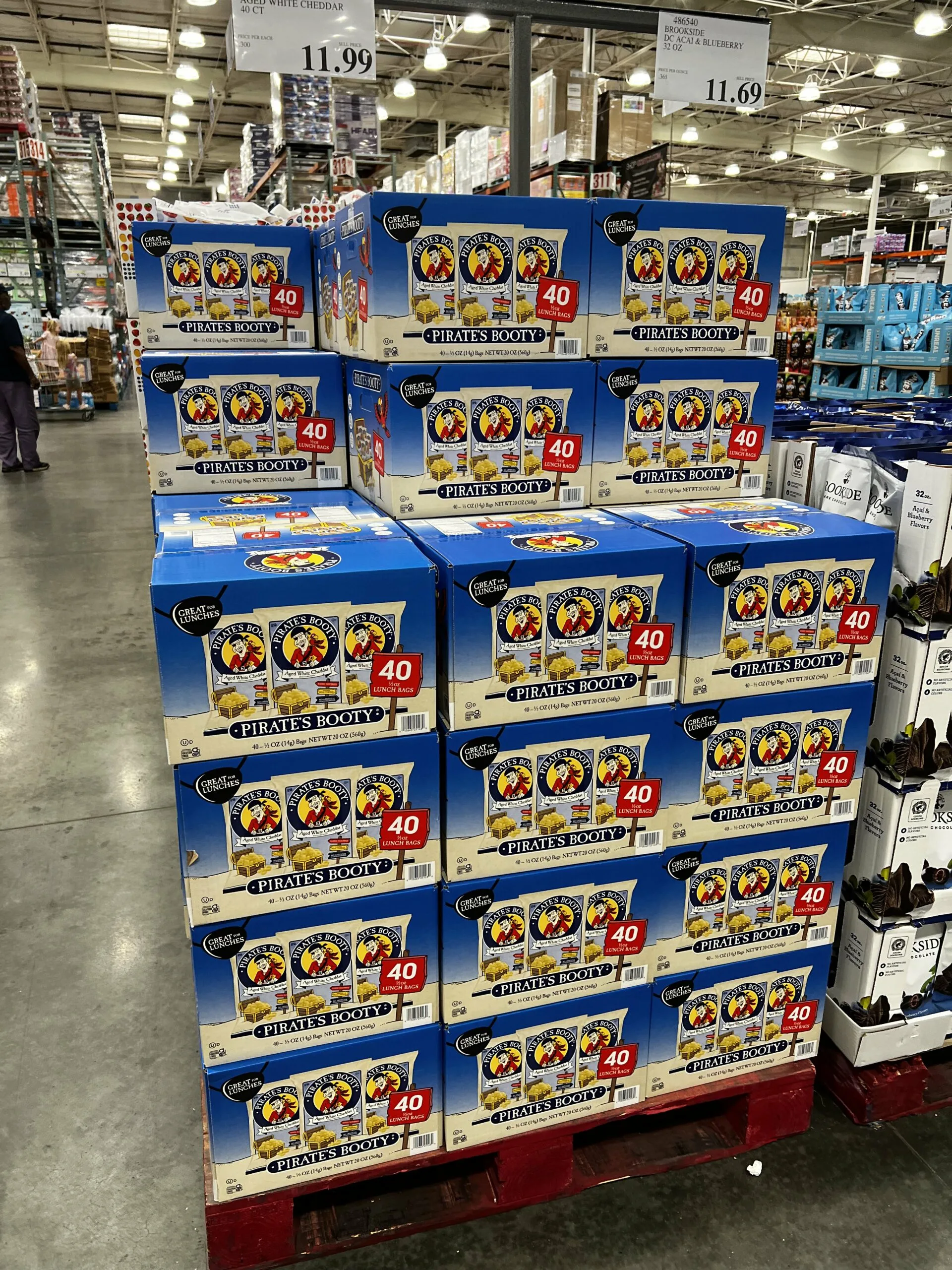 This stuff is addictive and so delicious for a crunchy, cheesey treat. The little bags make it easy to grab and go!
Chips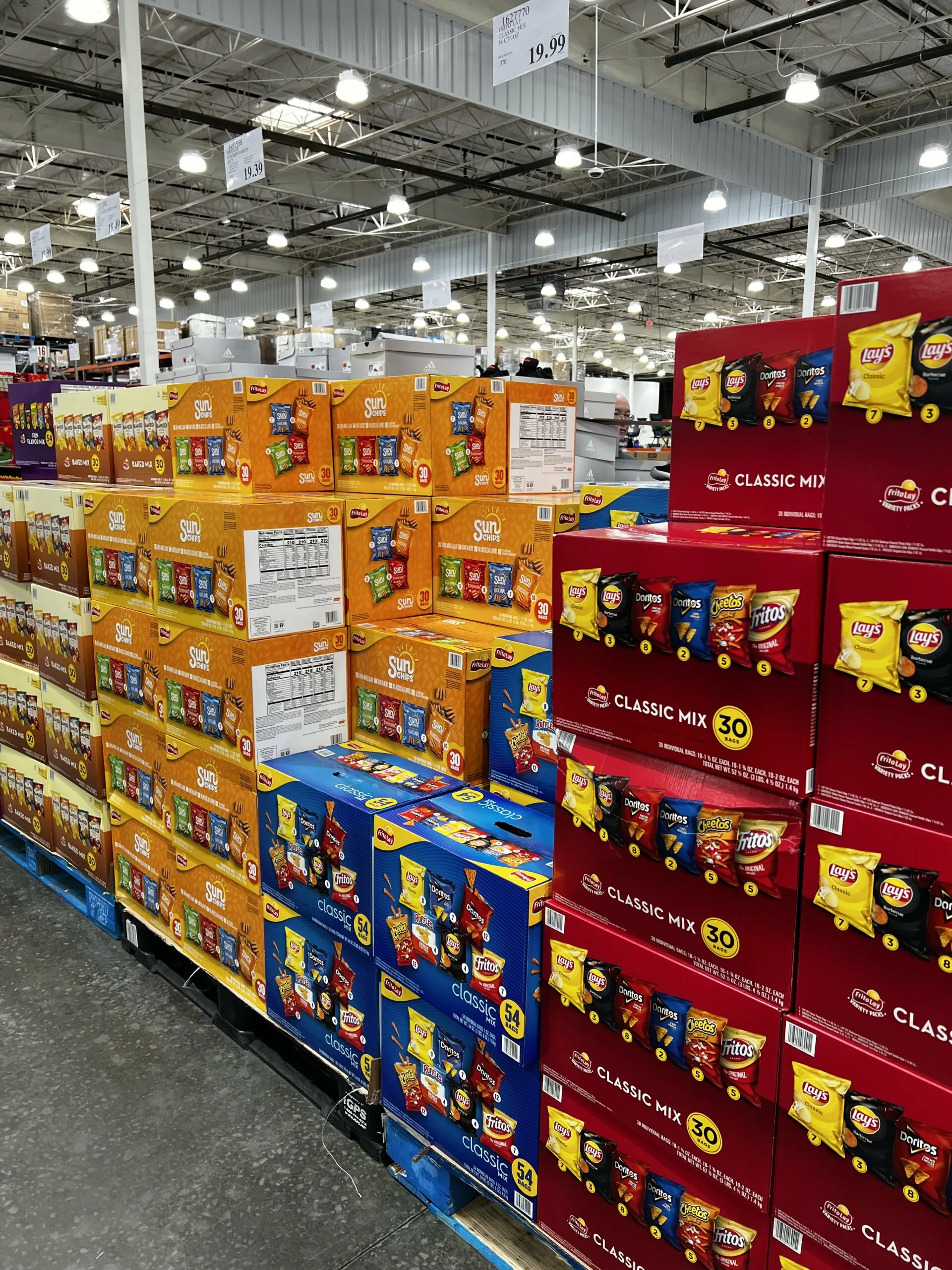 Maybe it's the 90s kid in me, but nothing beats little bags of lays and doritos. Forever a classic, and a great deal at Costco.
What do you think are the best snacks at Costco?