Looking for the perfect play house or play kitchen for your kids? Let's talk about the Step2 Adventure Camper Playhouse and if it might be right for your family!
We are big fans of Step2 brand products, so we were super excited when they asked us to try out their new Adventure Camper Playhouse.
This toy is part play kitchen, part play house, and totally awesome!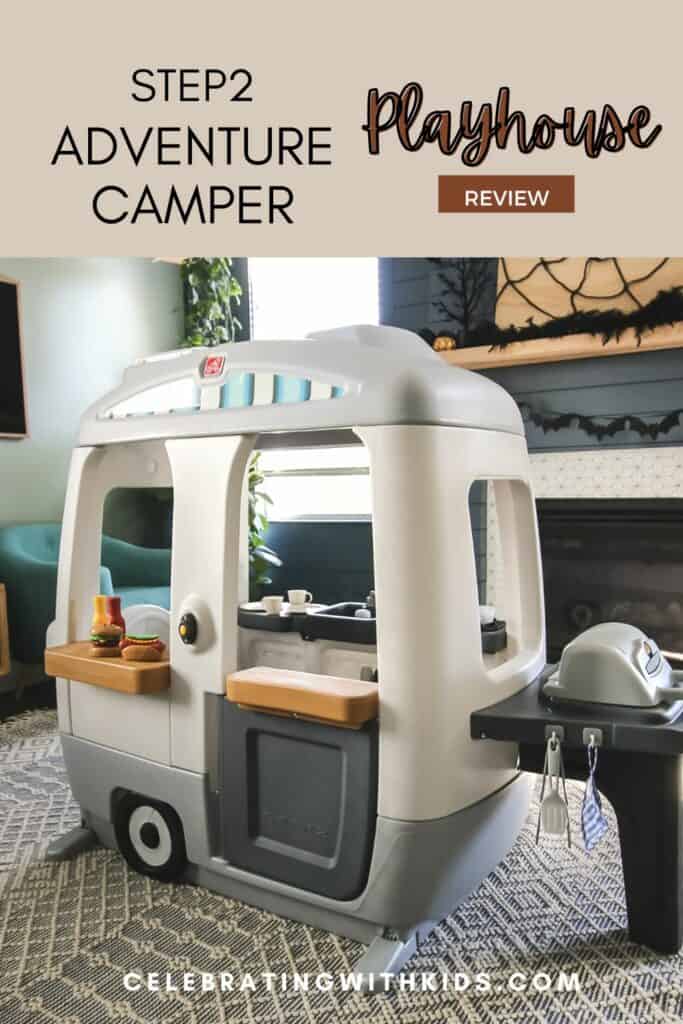 Step2 Adventure Camper Playhouse review
The Step2 Adventure Camper is a camper-shaped playhouse for kids. It has a play sink and stove on the inside and a grill on the outside, making it the perfect Food Truck for kids!
It also comes with a ton of food – hamburgers, hot dogs, and s'mores snap together pieces – and plastic utensils and serveware as well.
This set is the whole package and, if you have space for it, it is a great addition to any playroom!
My kids are really into Sesame Street and the Cookie Monster Foodie Truck segment, and immediately decided that this was their Foodie Truck. They've been yelling "ORDER UP" and pressing the bell non-stop!
Click here to buy the Step2 Adventure Camper Playhouse on Amazon
Click here to buy the Step2 Adventure Camper Playhouse from Step2
Features
The Adventure Camper has a lot of cool features.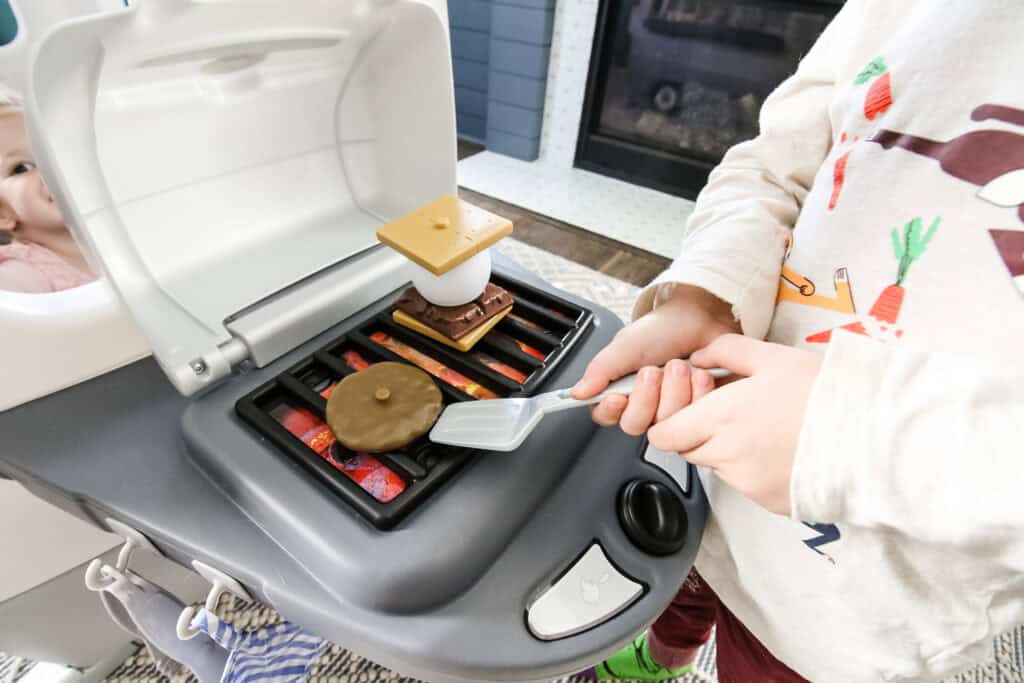 On the outside of the truck, there is a grill with a lid that lifts and a spinning knob for "temperature control." There are also 2 hooks to hang spatulas or the included pot holder.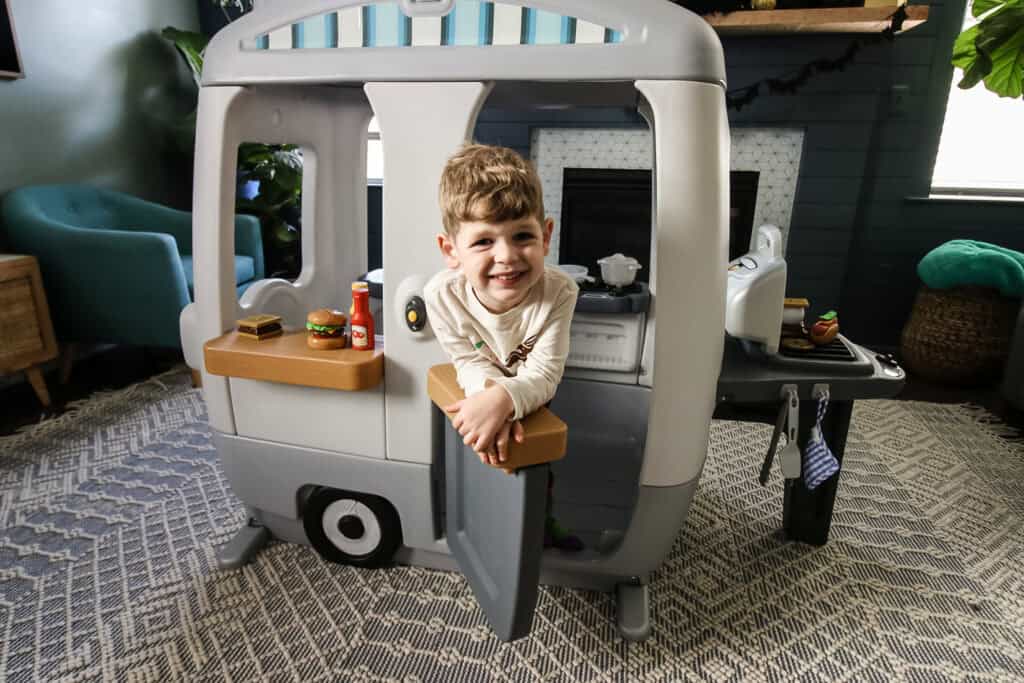 The door swings open and there is a working doorbell beside it – my daughter's favorite part!
The truck has open windows on all sides to serve out of, but also has a clear plastic sunroof to let in light and help it feel less claustrophobic.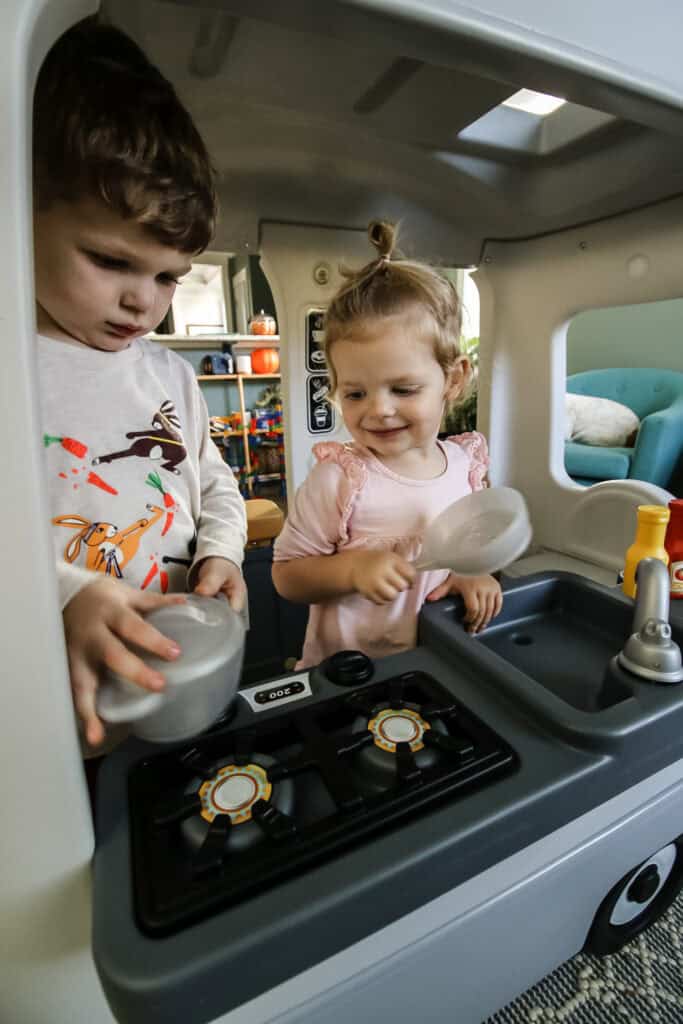 Inside the truck there is a menu on the wall, a seat for a child, a sink with a swivel faucet, and has 2 spinning knobs on the stove with removable grill plate.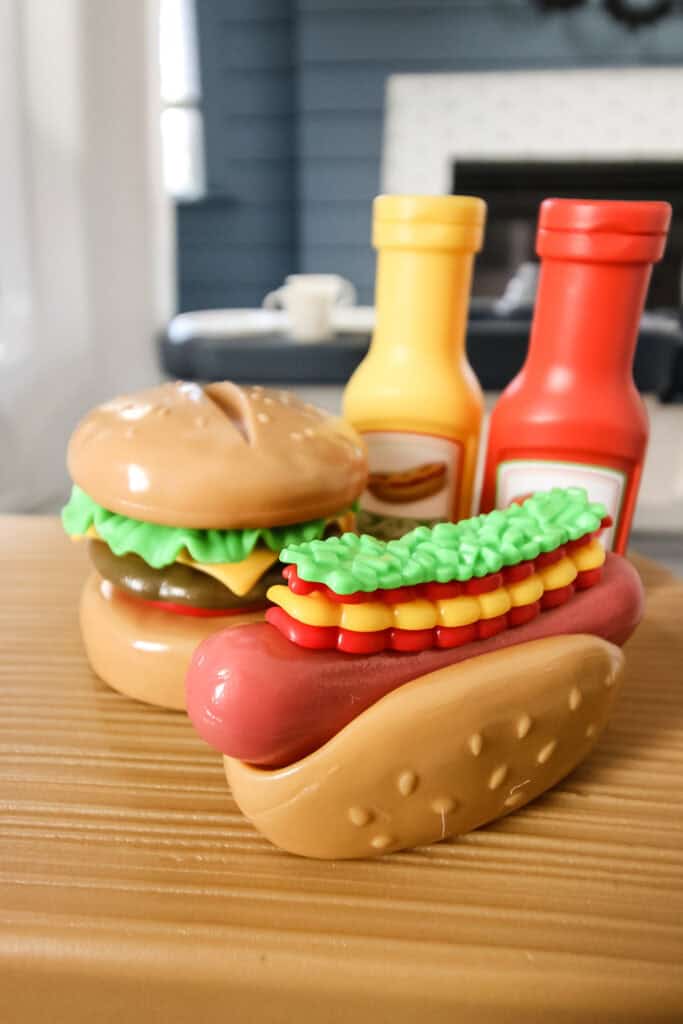 The set also includes play food and utensils for the grill!
My only complaint about the features is that I wish there was more storage for all of the included utensils and food. They include a LOT of pieces and the shallow ledges inside don't hold much. Plan to add a basket or bin for easy clean up and storage!
Size
The biggest con about this set to me is that it is just very large. The full assembled dimensions are 50″ x 36″ x 63″ and it weighs 60 pounds! The weight means it is very sturdy and won't topple over, but it is difficult to move around.
This set can be used indoors or outdoors, which could be a solution if you don't have enough playroom space for it.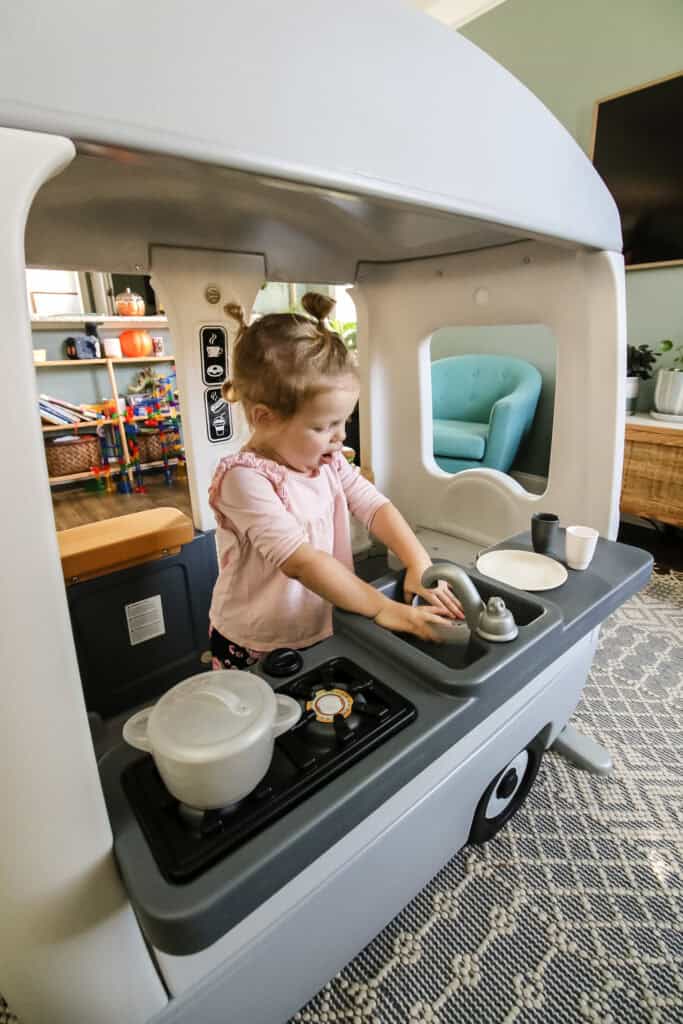 However, if you have a large space, the large size can be a huge bonus. My 2 kids (age 2 and 4) fit in it comfortably. I'd say that you could easily fit 3 kids aged 1-5 inside at once, no problem.
I myself, as a 5'6″ tall averaged sized female mom can fit inside (sitting) with one kid no problem.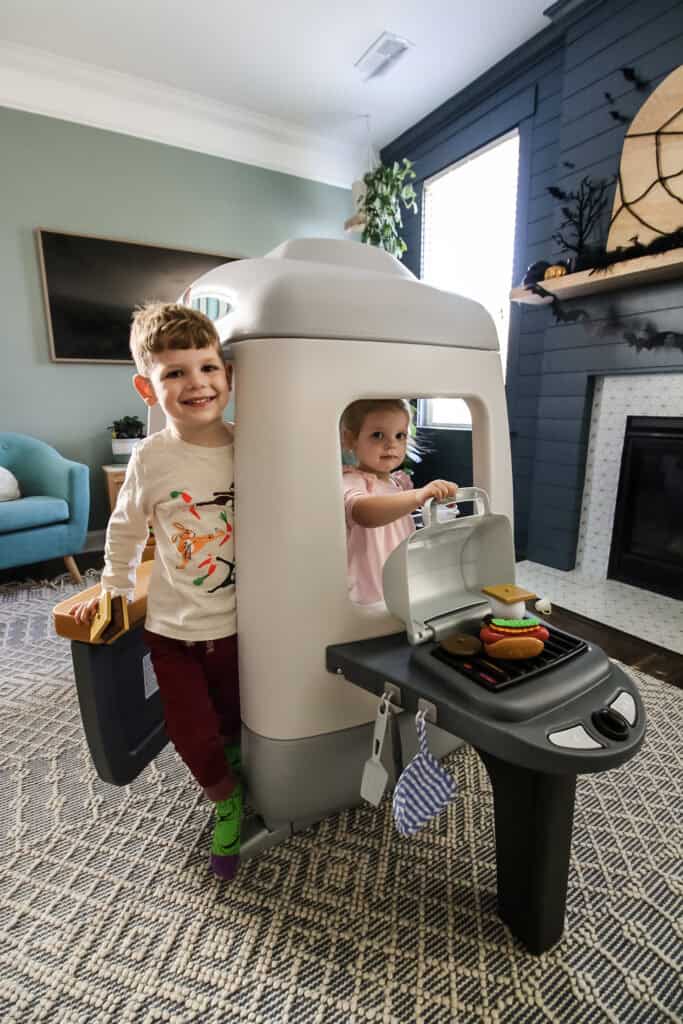 There is plenty of room and there are also lots of things to do in there – cook, wash, sit, serve out the window, do the door, plus the grill on the outside – making it great for multiple kids.
Assembly
Assembly on this set was a bit intimidating. It came in TWO huge boxes and the instructions said two adults one hour assembly time, but reviews online said it took much longer.
My father in law was in town at the time, and he, my husband, and our 3 year old got it assembled in just under an hour.
I highly recommend having a power drill to speed up the process. I suggest saving the stickers to put on yourself – grandpa was not the right choice in sticker applier 😂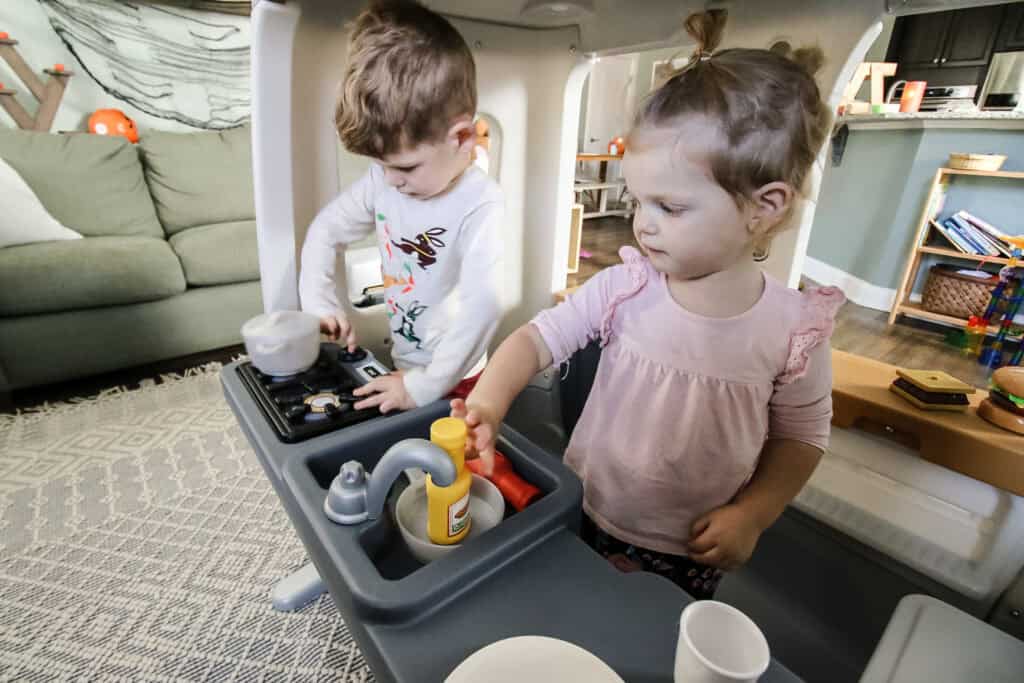 I will say that the camper is extremely study and feels very high quality. It is not flimsy at all – my son has been crawling in and out the windows and there's no bending or bowing whatsoever.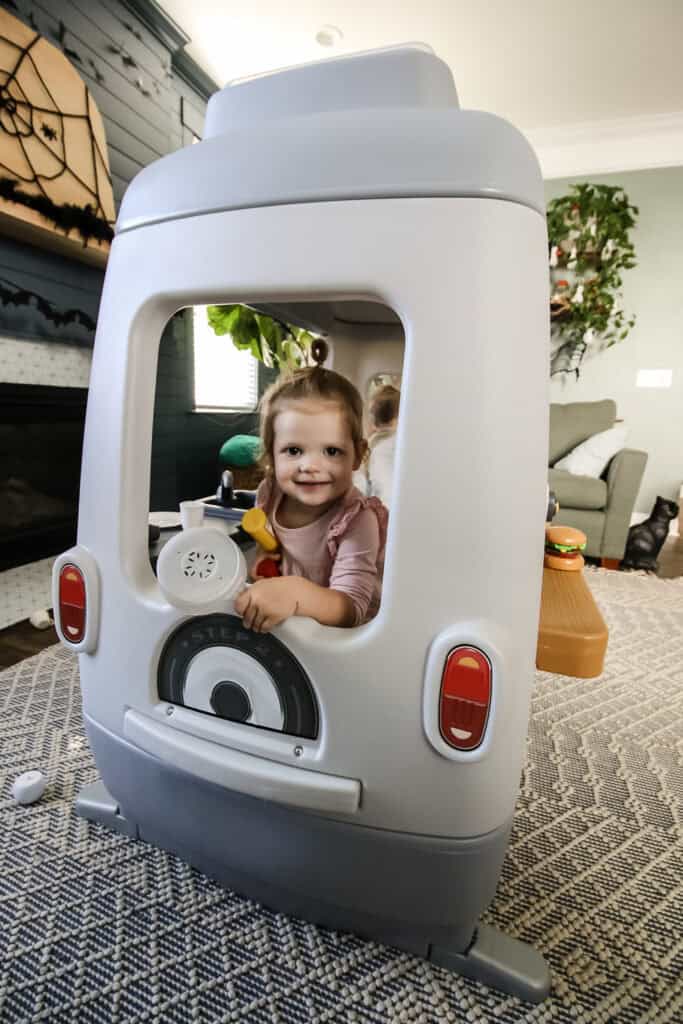 Price
This set retails for $349. It's a pricy kids toy, but it is large and you get a lot of pieces for your money – play house, kitchen, grill, food, and utensils. It would be an amazing big gift for kids to come down on Christmas morning to see!
Click here to buy the Step2 Adventure Camper Playhouse on Amazon
Click here to buy the Step2 Adventure Camper Playhouse from Step2
Step2 Coupon code
Use my discount code CWK15 to get 15% off your purchase from Step2!
| | |
| --- | --- |
| CWK15 | 15% entire purchase on Step2.com, excludes replacement parts and sale items; one discount code per order. |
Any questions about the Step2 Adventure Camper playhouse?