Looking for a great gift idea for the new mom in your life? Give her the gift of relaxation! Here are the best relaxing gifts for new moms!
Nothing says relaxation quite like having a new baby at home. Sleep deprivation, a total change of your routine, and a screaming baby can really do a number to stress you out!
If you are looking for gift ideas for a new mom, my top suggestions are always:
a meal or food (check out all of my best meals to take new parents!)
time – offer to come sit with the baby while she showers, naps, or runs an errand alone
cleaning – clean the house or send a housecleaner, without judgment.
Today I wanted to share some of my favorite relaxing gifts to give to new moms. Because, with everyone giving things to the baby all the time, it can be nice to get a treat for mom, too.
And no, these items won't keep her from doom spiraling when pacing back and forth with an inconsolable baby at 3am. But they will make her cozier when she's doing it!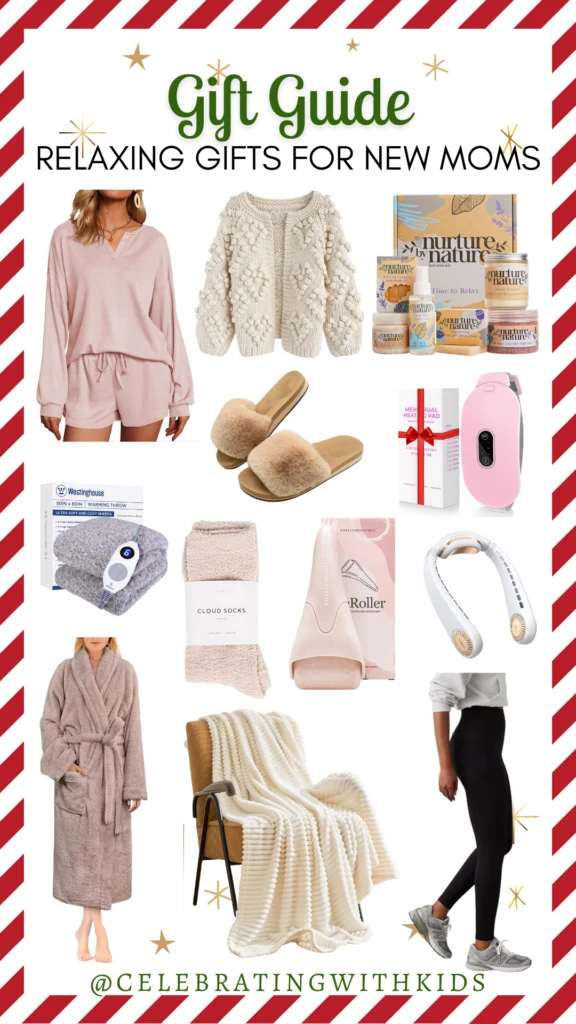 The best relaxing gifts for new moms
Here are my favorite gifts to give a new mom who needs a little self care and pampering!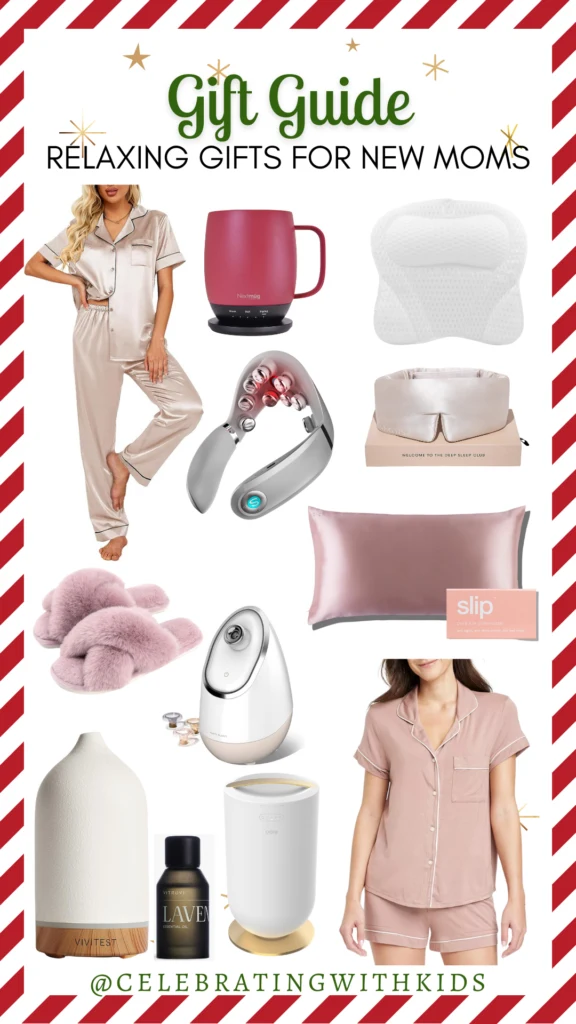 New moms deserve a little extra warmth and relaxation! Check out the Nextmug, a temperature-controlled, self-heating coffee mug designed to keep their favorite brew at the perfect sipping temperature.
No time for a facial? This at home face steamer is the ultimate self-care companion. It detoxifies, cleanses, and moisturizes, giving that refreshed glow.
New moms spend a lot of time in pajamas. Treat her to a new silky pair!
Give the gift of warmth and relaxation with the Luxury Towel Warmer – because every new mom deserves to indulge in the comfort of a heated towel, robe, or blanket.
New moms rarely take a break. Help her unwind and soothe those tired muscles with the Cordless Neck Massager. The perfect addition to her self-care routine.
Aromatherapy can make your room smell great – without any burning candles, which can be dangerous around small kids. Plus, the right scent might help her relax, too.
Sleep is hard to come by for new moms! A sleep mask can be the perfect thing to help her make the most out of every minute.
If she likes to take baths, she will appreciate the extra added comfort from this bath pillow.
These super soft pajamas are very cozy, and the button down top makes it a great option for nursing, too.
Give the gift of cozy comfort to a new mom who deserves relaxation and warmth. These fuzzy slippers are a perfect treat for her tired feet.
Make life cooler for the new mom in your life with this innovative Neck Air Conditioner. This is perfect for anyone who feels hot all of the time!
This waffle knit set is perfect for wearing around the house – and taking a nap in – and works for walks or trips to the grocery store, too. It's a win-win!
Wrap her in warmth and comfort with this plush throw blanket – the perfect way to get cozy.
Leggings that provide comfort and support – comfortable and practical!
This cozy sweater is perfect for nursing moms and cozy and comfortable for any mom in general!
There's no shame in wearing a robe all day when you're a new mom. This is a cute and comfy option!
Give the gift of warmth and relaxation with this plush heated blanket. Perfect if she is always complaining about being cold.
I love sleeping on a silky pillowcase to protect my hair and skin. This is a great gift and little luxury item!
This cordless heating pad is a comforting companion for new moms. With 6 heat levels and 6 massage modes, it eases those postpartum aches and cramps.
This cryotherapy ice roller is a new mom's best friend for that well-deserved 'me time.' From facial massages to full-body relief, it's the ultimate rejuvenating tool. Say goodbye to puffiness and stress.
This spa gift basket is a well-deserved escape for new moms to unwind, rejuvenate, and feel truly pampered.
Am I the only one who LOVES getting socks as a gift? These ultra-luxe cloud socks are like a warm hug for your feet.
Lavender oil is really and truly relaxing and smells wonderful. I put it on my mattress and bed sheets and it makes it so nice to crawl into bed!
Pamper her with the softest, most comfortable slides. These fuzzy slippers are all about relaxation, arch support, and pure coziness. A perfect treat for every new mom.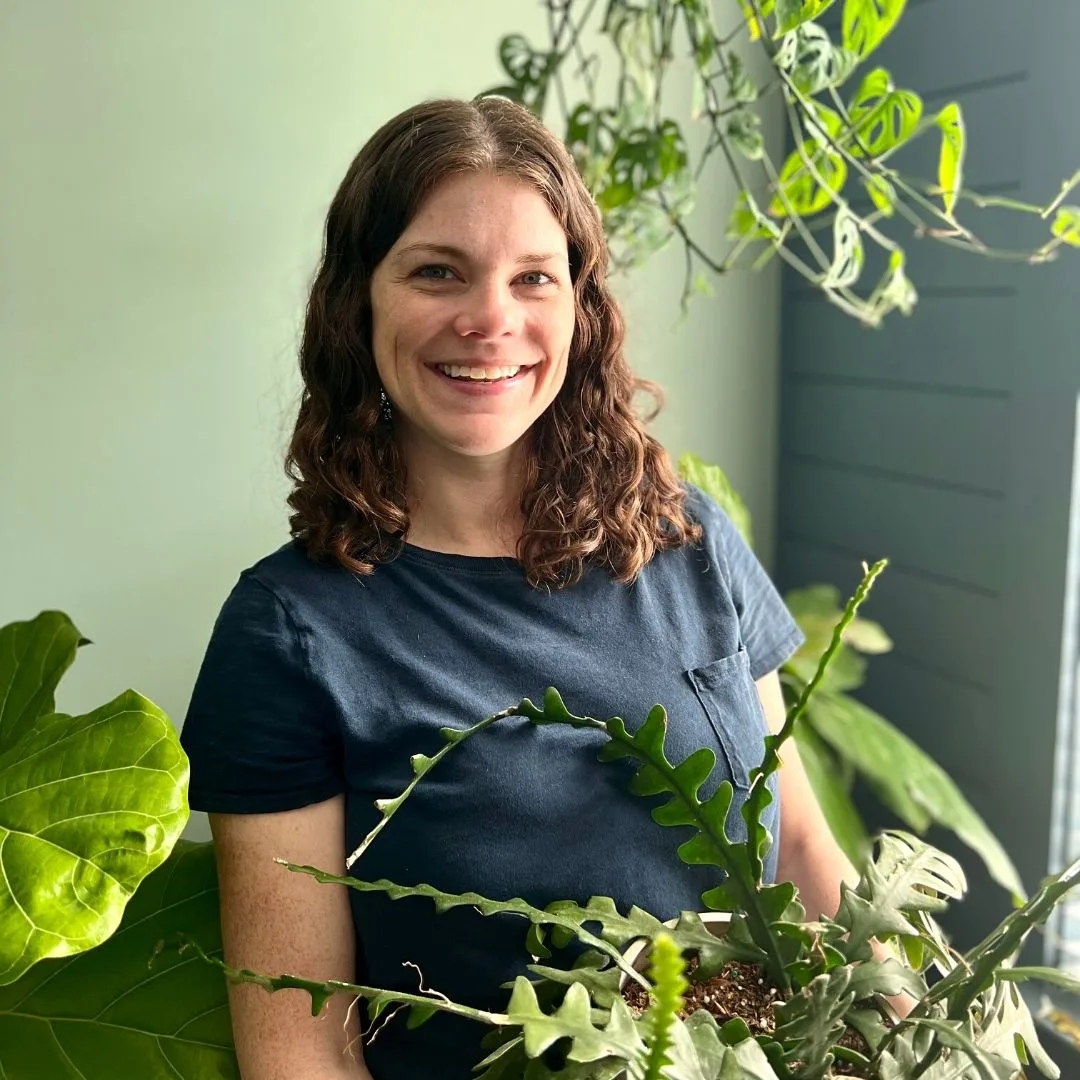 Hey there, I'm Morgan, the creative mind behind CelebratingWithKids.com! As a parent of two lively little ones, I've made it my mission to turn ordinary days into extraordinary adventures, sharing playful activities, thoughtful toy reviews, and delightful printables to help families celebrate every moment together. 🎉👨‍👩‍👧‍👦🎈