Trying to figure out what to give your adult son for a gift this year? Here are a ton of ideas for thoughtful gifts for an adult son!
Shopping for other people is hard. Shopping for other adults who generally have money and buy whatever they want when they want it is really hard.
I know that parents want to make holidays special for their kids, even when they are adults. There are lots of things that make a day special – specifically, spending time together – but gifts are often a part of that, too.
Today I want to give some tips for picking the best gift for your adult son.
It's super important to consider their interests, hobbies, and personality while choosing presents.
But, I am going to provide a range of gift ideas that will hopefully inspire you and get your wheels turning. You might just find the perfect gift!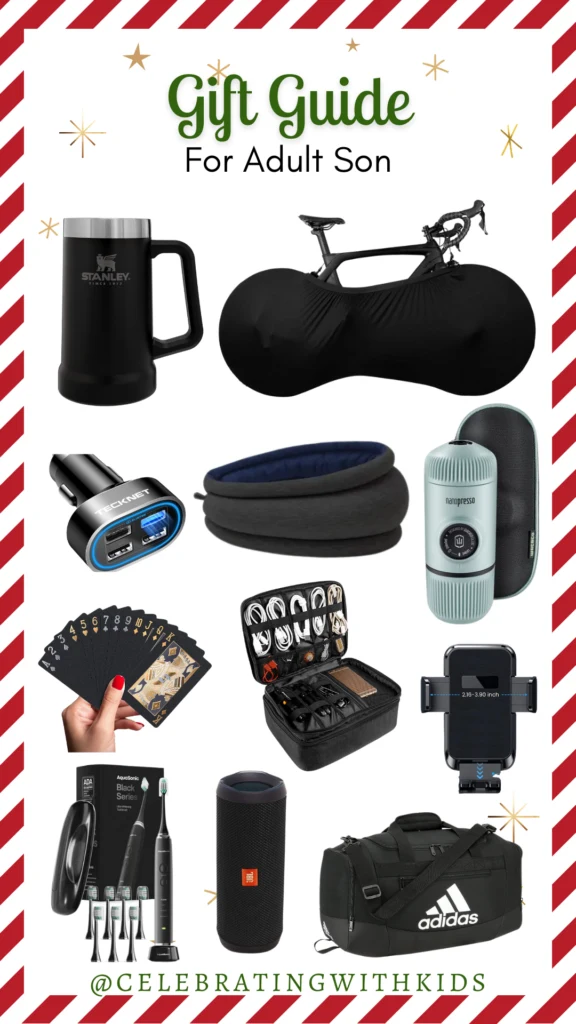 Understanding His Interests
The worst thing that a gift from a parent to an adult child can be is generic. You want to feel like your parent listens and remembers your interest.
If it helps, keep a note on your phone or in a physical journal where you jot down any hobbies or activities they express interest in.
Once, I told my grandma I liked cheetos. She then gave me a can of cheetos every time I saw her – for over 20 years. It became kind of a joke, because while I liked Cheetos I wasn't obsessed or anything, but it was sweet and very very thoughtful and I always appreciated it.
What I mean to say is, try to remember your sons' interests, big and small. Picking gifts that allign with his likes will be much more meaningful, and more likely to be enjoyed.
Note: these gifts are assuming your grown children have a job and their own money and don't "need" anything. If they need something or are short on cash, I encourage you to ask them what they want and buy them that!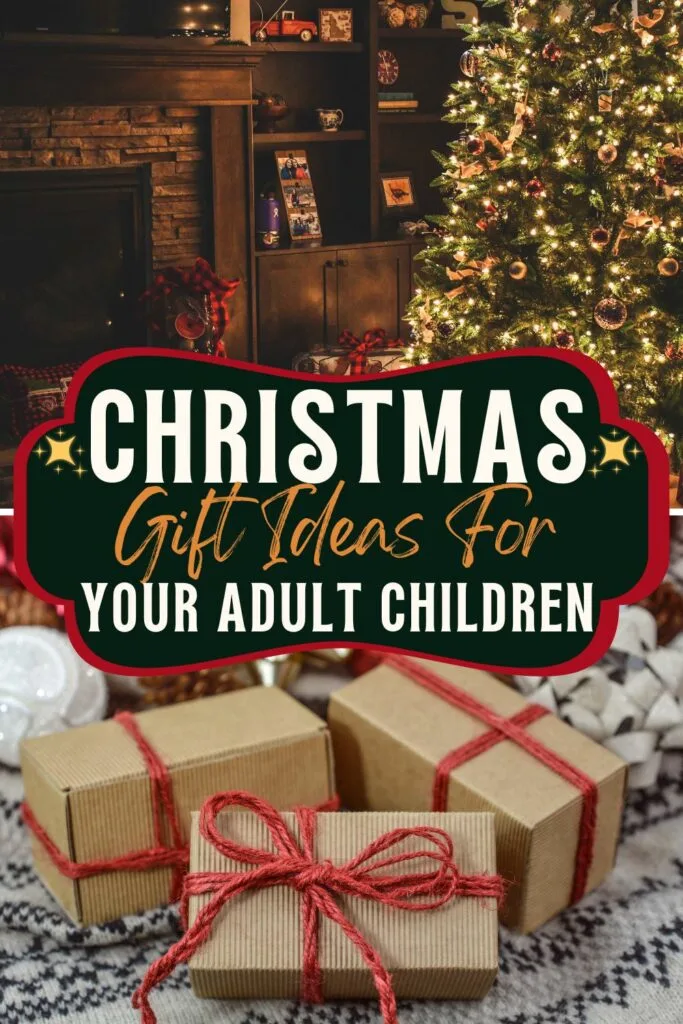 Experience gifts for your adult son
My first suggestion for gifts will always be experiences. As an adult, I definitely want less stuff and more time together.
Some cool experience gift ideas could include:
A cooking class

Dance classes

Spa services
Restaurant gift card (to somewhere special or a treat – not Wendy's)
Sports, music, theater or event tickets
Painting class
House cleaning services

Hot air balloon ride
I give extra plus marks to any experience that you might do together or if you offer to watch their kids while they do the activity with their spouse.
Memberships
Memberships are a great gift to give to adults. I'd be excited to be added to someone's Costco membership!
Other memberships you can gift include:
CSA membership to a local farm
Gym or exercise class membership
AAA membership
Warehouse like Costco or Sam's Club
Local membership like tickets to a summer music series
A weekend away
The ultimate gift for me would be a weekend away. You can do this a few ways.
First of all, if they have kids, offer to keep their kids while they take a weekend away!
Or, you can plan a weekend away for them and you together.
Finally, just gift them a stay at a BnB or hotel. If you have a ton of hotel points, offering them a weekend at the Marriott of their choosing is a really nice gift!
A chance to do something together
If you don't spend a lot of time with your kids any more, planning an event together could be a great gift.
This could be as simple as lunch and a mani-pedi or as elaborate as a weekend away together.
Think of something that you did together in the past that you have really good memories of. Pairing a fun activity together with a healthy dose of nostalgia is always an awesome gift.
Wrapable gift ideas for your adult son
Here are a ton of ideas for physical items to gift your adult son, if you prefer to go that route!
Gift your beer-loving son the Stanley Adventure Big Grip Beer Stein and keep it nice and cold from the first sip to the last. These are perfect for anyone who loves beer!
Guys who like to travel will love this Genuine Leather Travel Toiletry Bag. This high-quality dopp kit is the perfect companion for his travels – a great upgrade if he currently travels with his toiletries in a ziplock bag!
Is your son always on his phone? This hands-free cell phone holder is a perfect gift to keep him safe on the road.
Make your son's daily hustle more convenient with the Adidas Defender 4 Small Duffel Bag. A perfect gym bag for staying organized and comfortable on the go.
This is a fun desk accessory for a man who spends a lot of time in his office. It's random, but actually really cool and mesmerizing to look at!
Elevate his work setup with this sleek laptop stand. A perfect gift for his comfort and productivity, perfect for guys who work from home.
Never lose his keys, phone, or anything again with Tile Mate. The gift of finding things easily! These clip onto valuables so you can easily ping them and locate them if they get misplaced. Great for the guy who is always losing something!
Who doesn't love a massage? Portable, cordless, and easy to use – this comes with a case for convenient storage and transportation.
Upgrade your son's travel game with this sleek and anti-theft laptop backpack. Complete with a USB charging port, it's the perfect gift for staying connected on the go.
Gift your son this stylish leather AirTag wallet. With RFID technology and room for his essentials, it's the perfect blend of fashion and functionality.
Keep your son's tech gear organized and protected with this double-layer, waterproof electronics organizer. An ideal gift for the tech-savvy traveler.
Charge up to 4 devices on the go with this 54W USB car charger. A practical gift for your son's daily commute.
Keep all his tech essentials organized with this portable hard drive carrying case. The perfect gift for a tech-savvy son.
If your son rides a bike, he might appreciate a wheel cover. This can keep the wheels from scuffing inside the house and protect them from dirt and debris while being stored.
Did you always put a new toothbrush in your kids stockings growing up? Upgrade your son's dental care with a Ultra Sonic Whitening Toothbrush.
Give your son the gift of endless fun with friends. These Diamond Waterproof Black Playing Cards are perfect for game nights!
Make his shaving routine easier and more organized with Mr. Razor! A thoughtful and practical gift for your son.
This Bluetooth Speaker is the perfect gift for your music-loving son. It is durable and portable and fits in a cupholder – perfect for on the go!
Elevate his coffee game with the Nanopresso Portable Espresso Maker – the perfect gift for a son who appreciates great coffee on the go.
This duffle bag is perfect for active lifestyles. It's a good looking carry on and also great for using as a gym bag or weekend duffel bag!
Give your son the gift of comfort and relaxation with this Light Reversible Travel Pillow. It's a versatile travel companion for his adventures.
Level up your son's relaxation game with The Original Fidget Retro Controller. It's the perfect stress-relief gift for gamers and fidgeters alike!
A classic game that's fast, furious, and full of fun! A perfect gift for your son to enjoy some exciting family competition.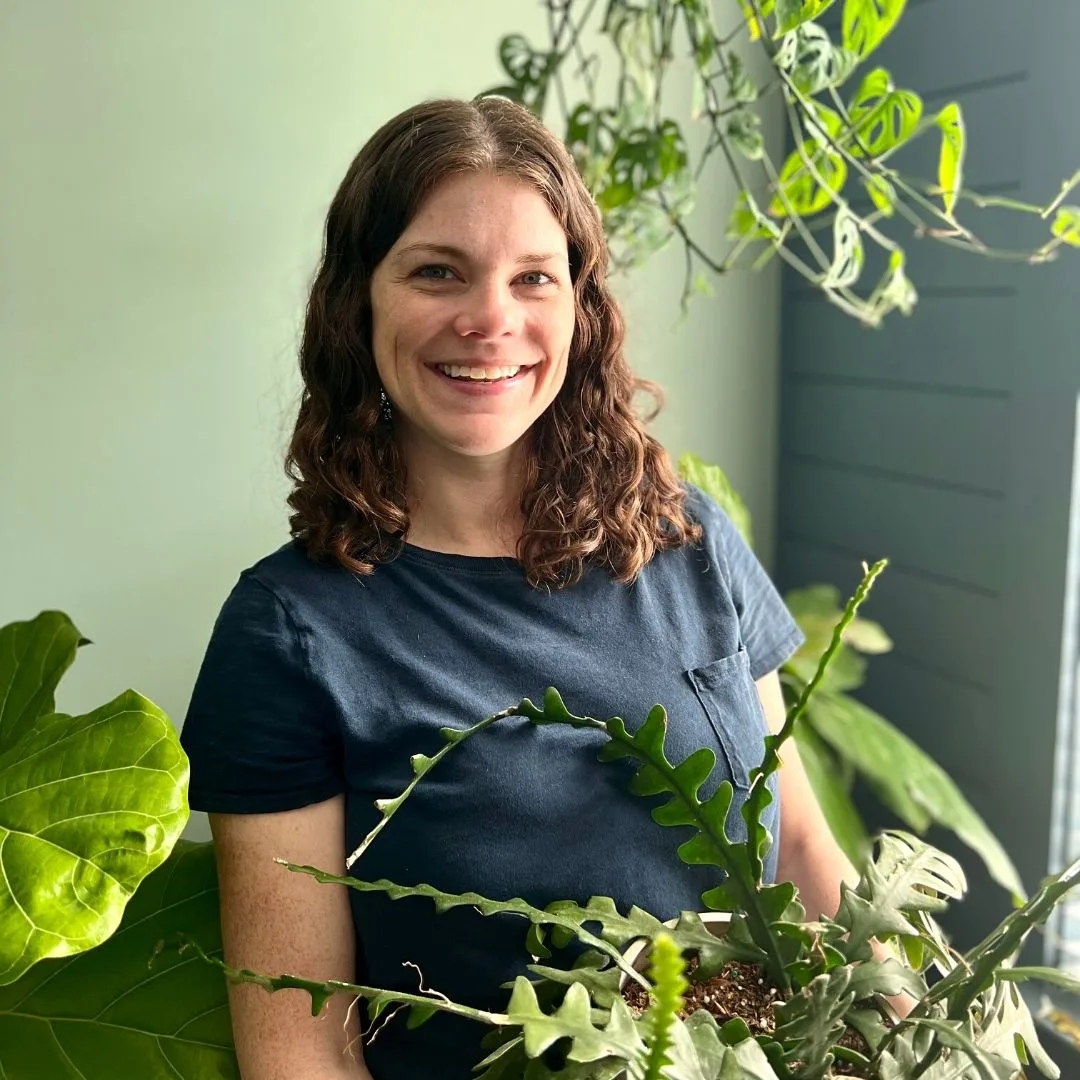 Hey there, I'm Morgan, the creative mind behind CelebratingWithKids.com! As a parent of two lively little ones, I've made it my mission to turn ordinary days into extraordinary adventures, sharing playful activities, thoughtful toy reviews, and delightful printables to help families celebrate every moment together. 🎉👨‍👩‍👧‍👦🎈