Considering taking your kids to see a live disney show? Here is our complete and honest Disney Junior – Live on Stage Review!
We took our kids on a Disney cruise this summer. They enjoyed so much of it – but I was most surprised at how much they enjoyed the live shows each evening.
When we got back, I started getting bombarded with Facebook ads for Disney on Ice and Disney Live shows, and so I decided to book tickets to the Disney Junior – Live on Stage – Costumepalooza show that came into town for Halloween.
My kids are a 4 year old boy and a 3 year old girl. We had a great time and I wanted to share the details of our experience with you here today!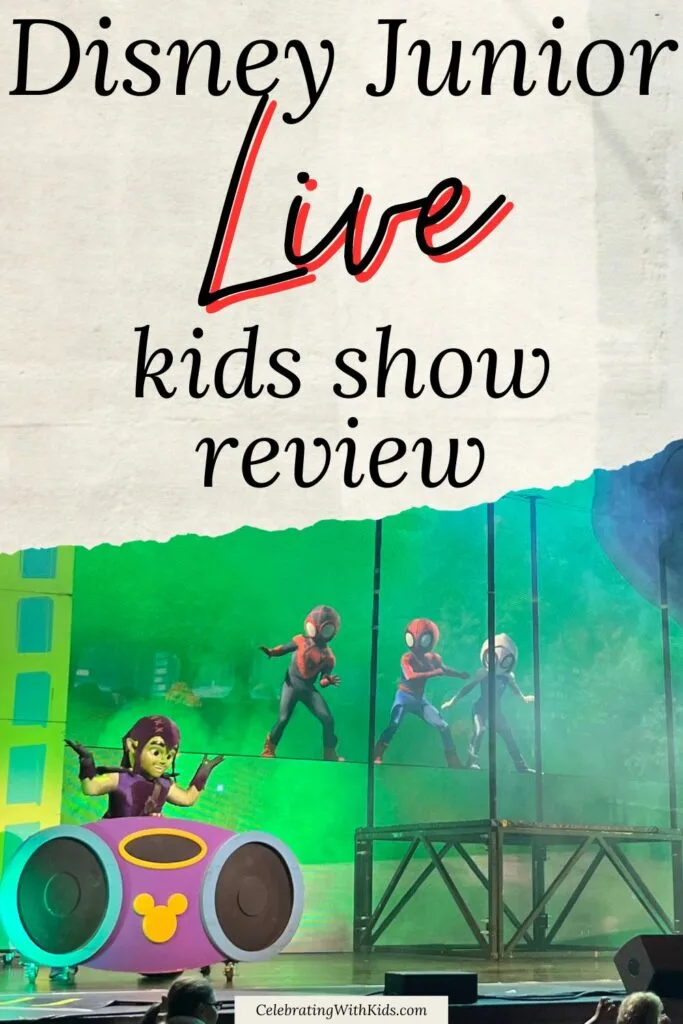 Disney Junior – Live on Stage Review
If your kids love Disney, they will love a Disney live show. The Disney Junior show is no exception and was very fun, high energy, and interactive. It is perfectly designed for preschool to lower elementary aged kids.
Overview of the Show
Our show was the Costumepalooza and featured a 45 minute first half, a 15 minute intermission, and a 20 minute second half.
The second half of the show was Spiderman focused and had a large trampoline set up, which is what they did during intermission and was the reason for the shorter second half (I assume).
The entire show was led by DJ – a literal DJ and hype woman. She did a fantastic job of interacting with the kids and keeping the energy up for the whole show.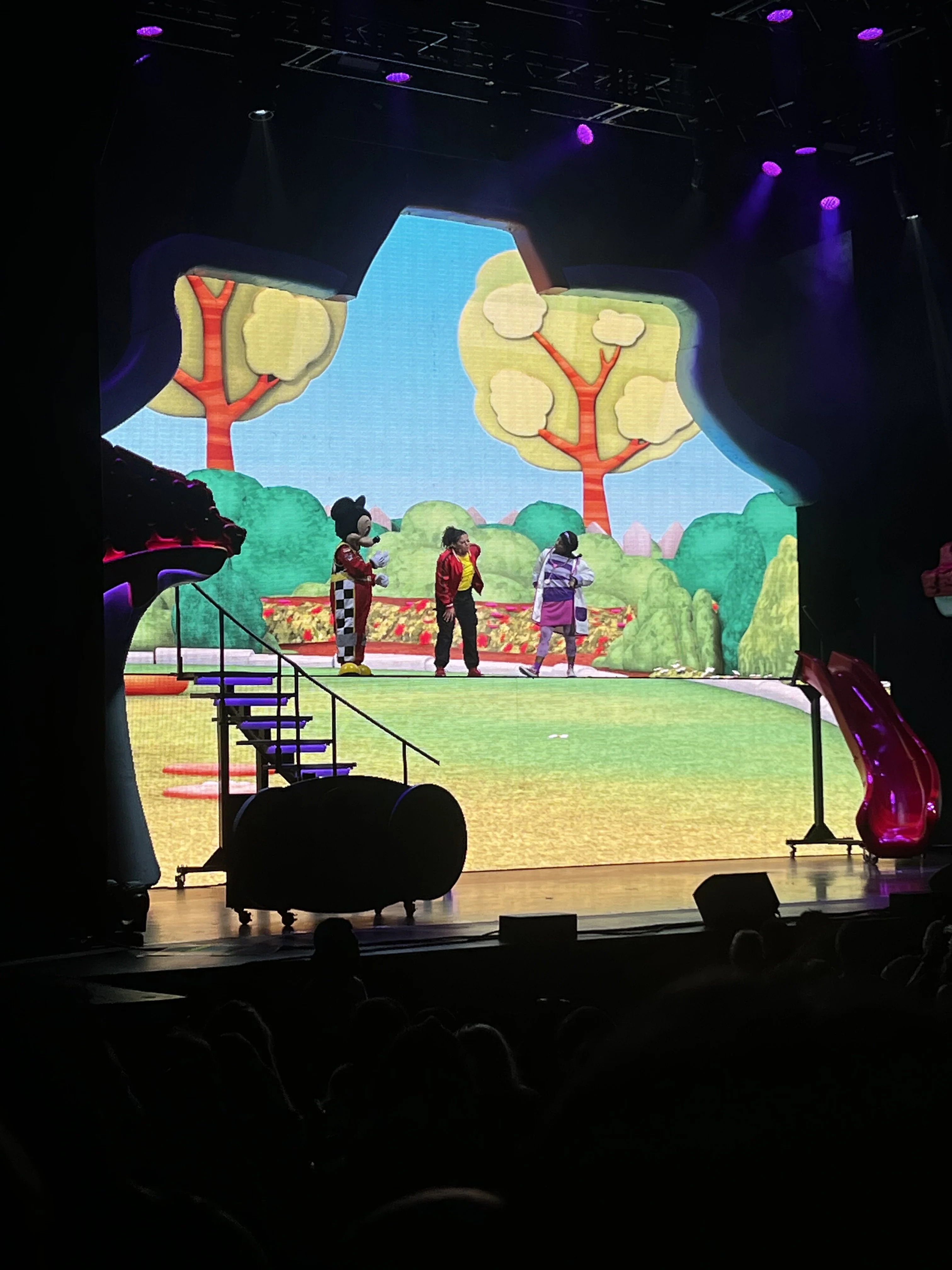 What characters are in the Disney Junior Live Costumepalooza show?
Our show had the following characters:
Mickey
Minnie
Goofy
Super Kitty
Bingo & Rolly – Puppy Dog Pals
Doc McStuffins
Firebuds
Spidey, Ghost Spider, and Miles Morales
Green Goblin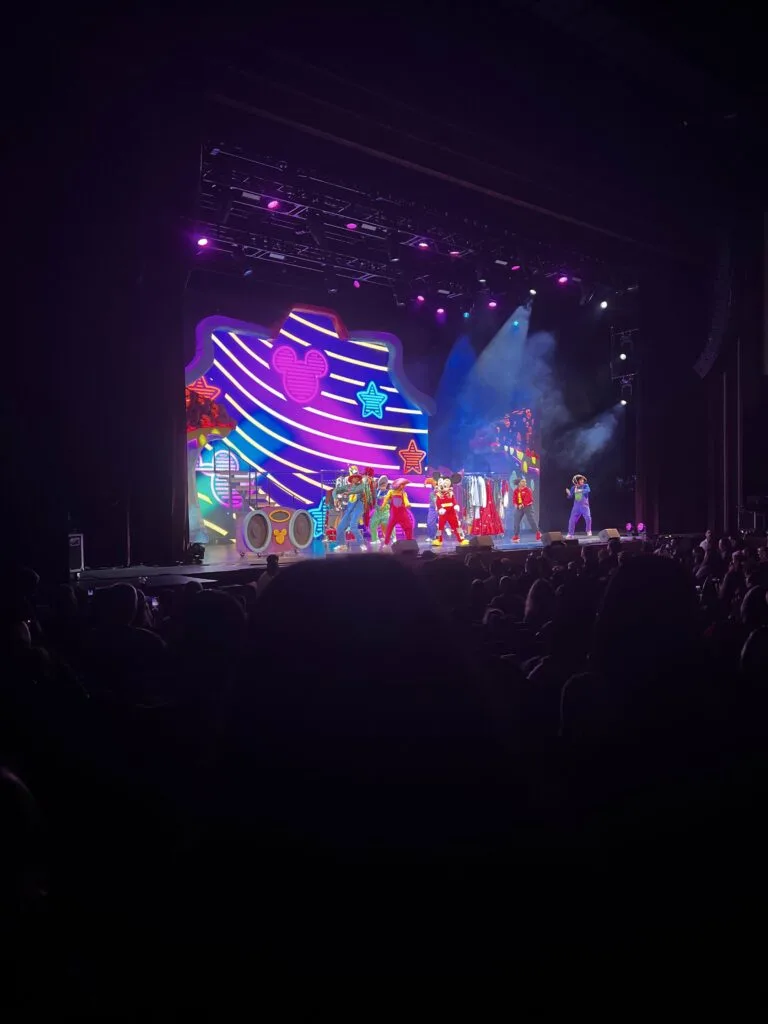 Production Quality
I am not a "Disney person" but one thing that I have learned since becoming the parent of preschoolers is that Disney does things very well.
All of the performers were seriously super good and the costumes and set were all very high quality.
I also appreciated that – other than the DJ character – all of the voices were pre-recorded and matched the actual voices of the characters from the shows. No one was doing a Mickey impression – this was the real deal.
That made it super easy for kids to follow along and understand who the characters were!
There was also a huge light up screen on the back wall that showed clips of shows before the show started and tons of effects during the show. This was excellent!
There was just so much creativity and attention to detail in bringing the Disney Junior characters to life on stage!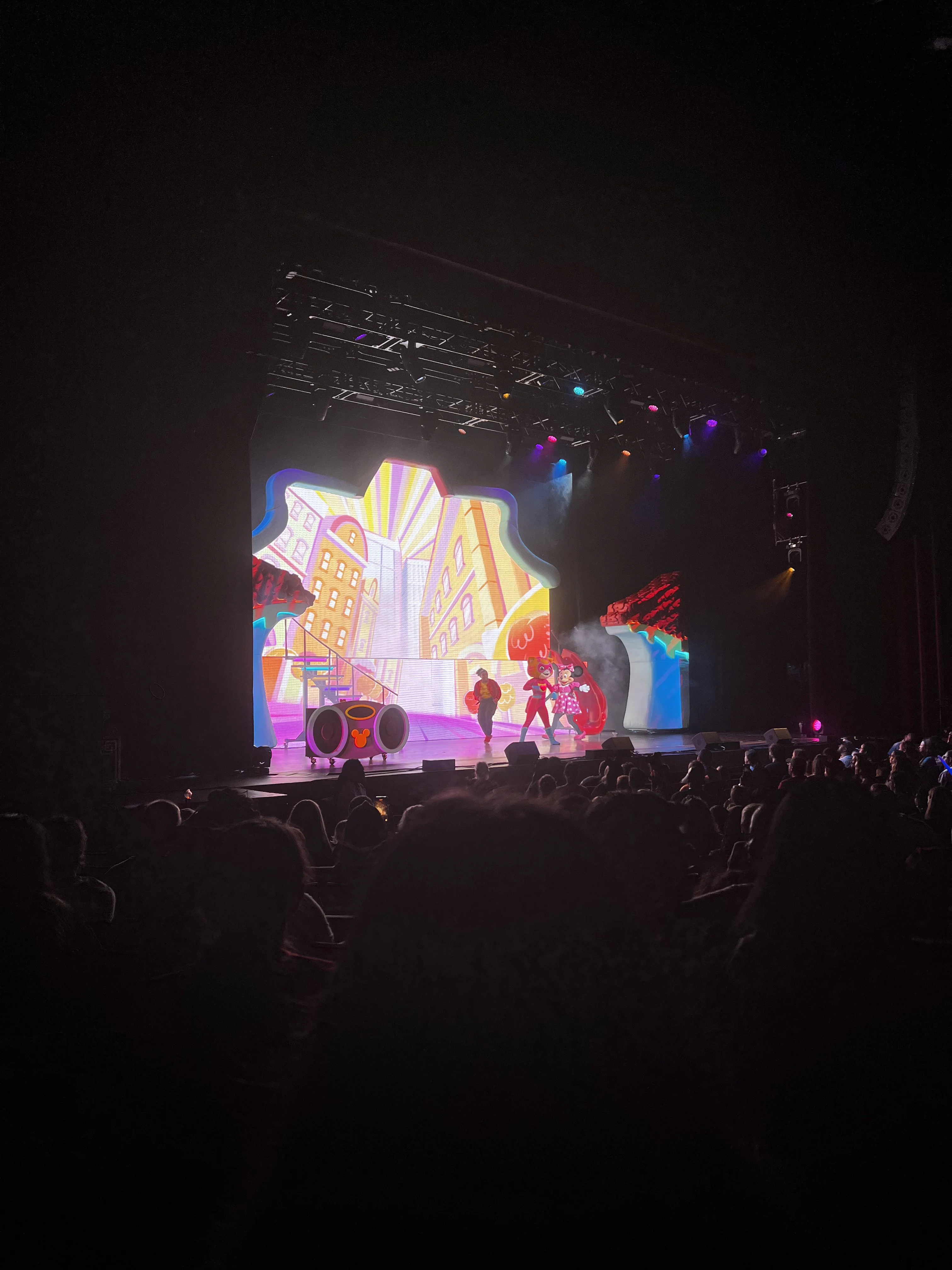 Engagement with the Audience
I was really impressed with how engaging and interactive the show was. The DJ had the kids standing up and doing dance moves approximately every 5 minutes during the show.
Not only was this super fun, but as a parent, it made me feel automatically OK that my kids were dancing and singing during the show.
That should be a no brainer, but we had a negative experience on the cruise with someone telling my daughter to be quiet, so it was a relief that it was OK for kids to sing along at this show.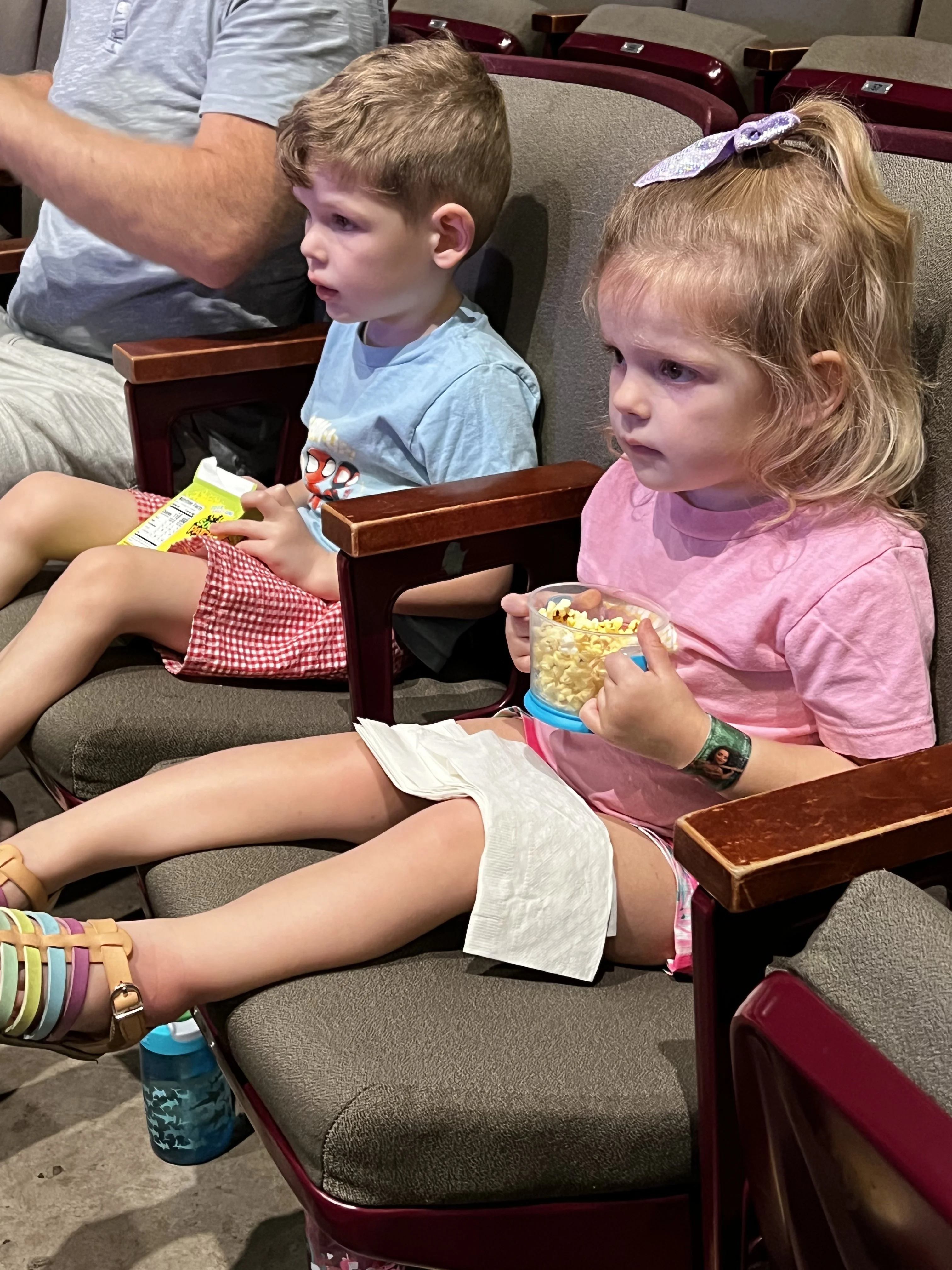 Entertainment Value
This show did a great job of pacing – quick songs, no more than 2-3 songs per character, and moving from scene to scene seamlessly. This was perfect for the target audience.
Was it what I would pick to do myself as an adult? Obviously not. But it was SO fun to see my kids get so into it.
And, I'm not going to lie, I sung along to a few of the songs, too!
Pros of the Disney Junior Live Show
Here are the biggest selling points for attending one of these shows:
Super engaging fun show targeting preschool kids perfectly
Very interactive so they weren't just sitting there staring for an hour
The kids got to see some favorite Disney characters that aren't usually at live things – like Bingo & Rolly!
The music was great
Great pacing and length of the show for this age group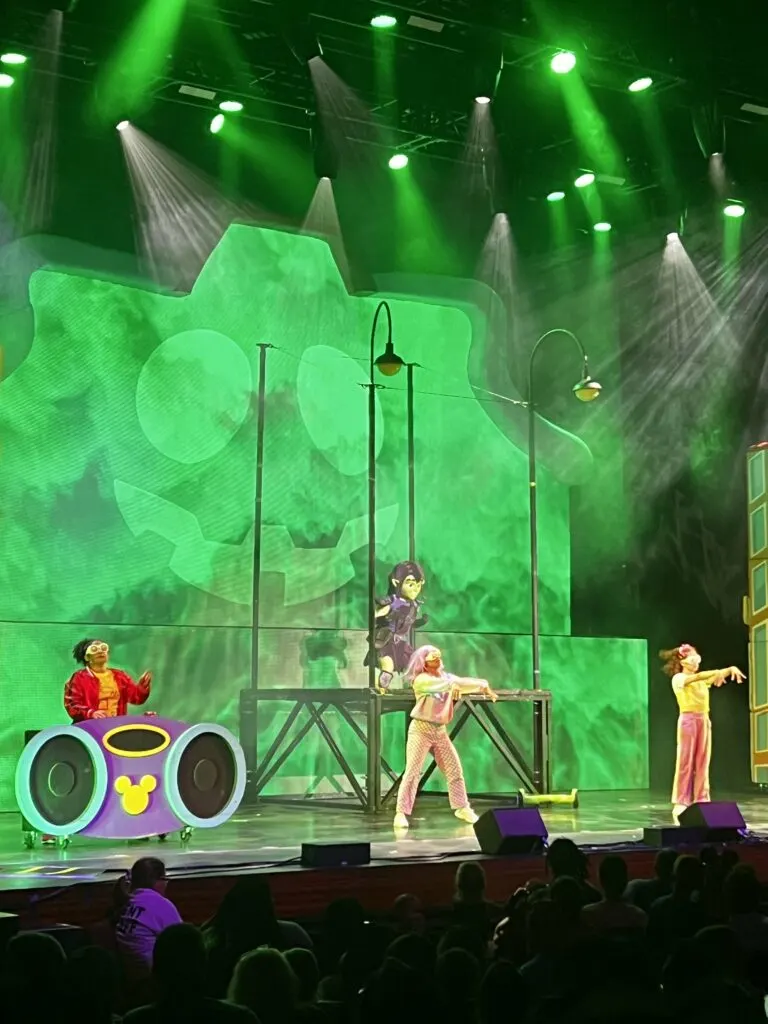 Cons of the Disney Junior Live Show
Here are the biggest drawbacks to attending a Disney live show:
It was very crowded with lots of lines – even early
If you didn't know the characters, it would be weird
You have to use Ticketmaster and pay their stupidly high fees
They are pushing a lot of merch and had very long lines to buy it
A beer was $12 (lol)
Kids were getting up and down the whole show and we had to stand up each time to let people walk past
We had to pay to park
Basically, most of the cons were cost related. You have to assess your budget to see if you can make it happen – just prepare to spend money at the event!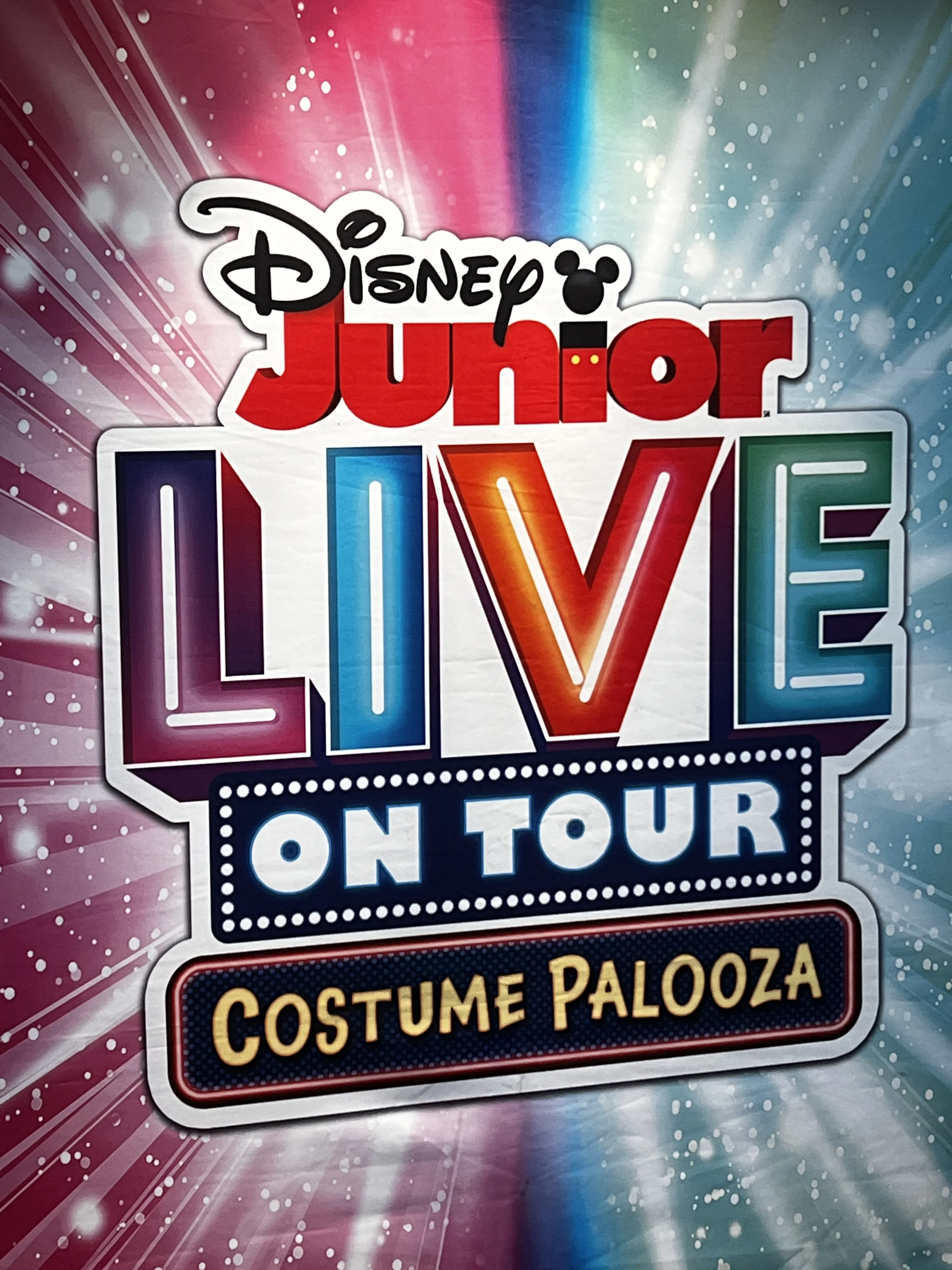 Is the Disney Junior Live Show worth it?
The Disney Junior Live Show is definitely worth the ticket price. Tickets range significantly in price so you can most likely find something in your budget range – just remember to account for fees, parking, and anything you buy on the day of the event.
Also look out for coupon codes – definitely google for your specific show because I found a big discount easily just from searching!
Before you go…
If your kids love the Disney Live shows, then they would love a Disney cruise! Be sure to check out all of our favorite activities for kids to do on a Disney cruise so you can get an idea of all of the fun to be had!
Any more questions about this Disney show?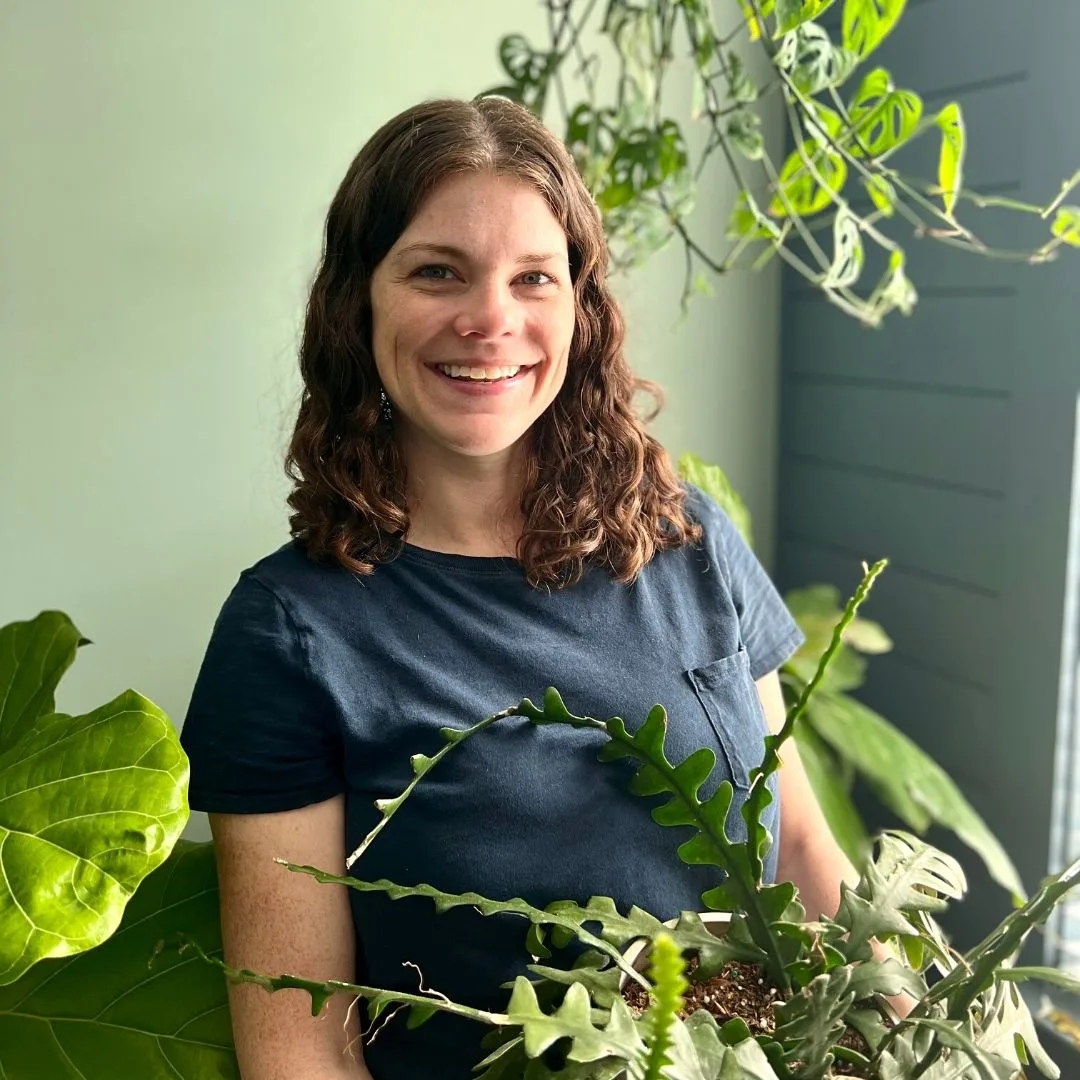 Hey there, I'm Morgan, the creative mind behind CelebratingWithKids.com! As a parent of two lively little ones, I've made it my mission to turn ordinary days into extraordinary adventures, sharing playful activities, thoughtful toy reviews, and delightful printables to help families celebrate every moment together. 🎉👨‍👩‍👧‍👦🎈