Looking for wooden toy (or wooden-toy adjacent) stocking stuffers?! Here are some of my favorite ideas!
If you love wooden toys, you probably have a lot of them.
But, it can be tricky to look for stocking stuffers for Christmas.
So, today I am rounding up the best wooden toy – or wooden-toy-adjacent – stocking stuffer ideas.
What the heck is wooden toy adjacent? Haha it's something I've seen in Facebook groups! It just means toys that might not be wooden but are similar in type or vibe to wooden toys. Things wooden toy parents will probably like!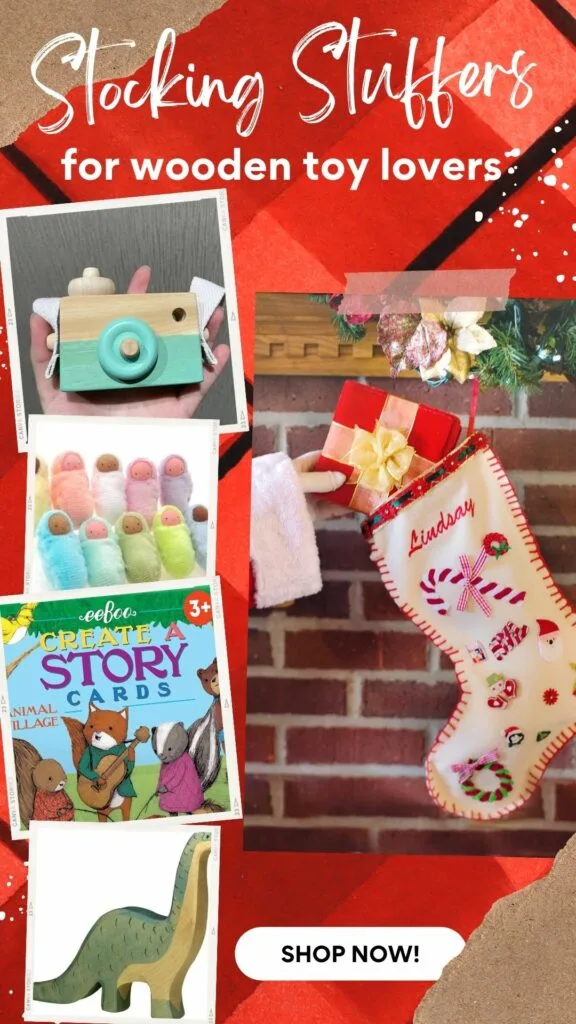 The best wooden toy stocking stuffers
Holztiger animals are the perfect size for stockings! Grab their favorite animal and be sure to include it!
Small playdough containers are always a big hit with kids!
These cards are small enough to fit in stockings and perfect for entertainment on the go!
Wooden playdough rollers or stamps are perfect for kids who already have plenty of play dough!
Glo Pals are light up cubes (or figures) that are perfect for bath or sensory play! My kids are each getting one this year!
Loose parts are great for kids who are older than mouthing age. You can split them between siblings by color or shape so they can use them to trade and play together!
Maileg mice are adorable and perfect for dollhouses or any imaginative play. I love the ballerina!
Crayons are always great, but these jumbo beeswax crayons feel extra special!
Some kids go wild for crystals. They make a great stocking stuffer! Be sure to look for ethically sourced crystals.
These little wooden cameras are so precious. I love that they have a neck strap, too! So many colors to choose from!
They're a wooden toy classic for a reason. Throw in a peg doll or two of their favorite character at the moment!
My 3 year old is obsessed with his magnifying glass! To be fair, he holds it right next to his face and says "now there are two mommies" but he will get it eventually, right?!
Play silks can be folded in a stocking or used to wrap something within a stocking, too!
Marbles can be a lot of fun – for kids old enough to know not to eat them! They are great for making marble drops and other fun ball runs!
Wikistix are wax sticks you can bend and use to do crafts or just kind of keep busy. They are super cute and great for kids who like to get crafty and creative!
Super random, but kids go wild for these little click flashlights! Simple and practical, too!
Felt dress up masks are cute and fun additions to your dress up box! Look for them on the after-Halloween costume sales, too!
These little wooden kaleidoscopes are adorable and fun, even for smaller toddlers and kids!
Any child who loves baby dolls would be THRILLED to receive one of these teeny tiny baby babies in their stocking!
If your kids like to get creative, check out these Create a Story cards, which allow pre-readers to use car
What are your favorite stocking stuffers?!