Want to have the best summer ever?! Here are some of the best pool toys for kids to make pool days as fun as possible!
Summer is finally here, and that means it's time to hit the pool! While swimming is a great way for kids to stay active and have fun during the hot summer months, adding pool toys to the mix can take the experience to the next level.
From inflatable floats to dive sticks to water blasters, the right pool toys can keep kids entertained for hours while they cool off in the water.
But with so many options on the market, it can be tough to know where to start. In this blog post, we'll be sharing some of the best pool toys for kids this summer, along with tips on how to choose the right ones for your family.
Whether your little ones are just learning to swim or are seasoned pool veterans, there's something on this list for everyone.
So grab your sunscreen and let's dive in!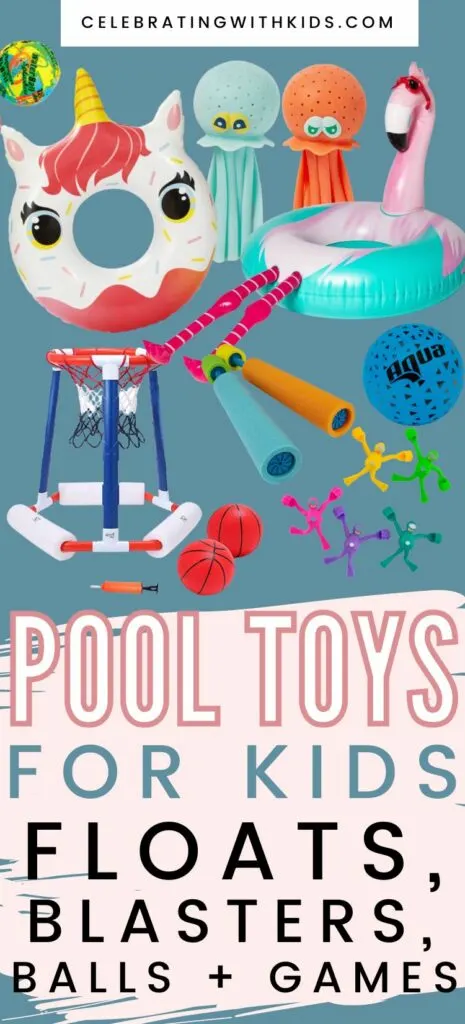 Pool toy safety
When it comes to pool toys and young children, safety should always be a top priority. Here are some tips for parents to keep in mind:
Choose age-appropriate toys: Make sure the pool toys you choose are appropriate for your child's age and skill level.
Supervise your child at all times: Never leave your child unsupervised in the pool, even if they're using pool toys.
Avoid toys with small parts: Toys with small parts or pieces that can break off can be a choking hazard for young children.
Use inflatable toys with caution: While inflatable toys can be fun, they can also be a drowning hazard if they deflate or become submerged. Always supervise your child when they're using inflatable toys.
Teach your child pool safety rules: Teach your child to never run around the pool, to always enter the pool feet-first, and to never dive into shallow water.
By following these safety tips, parents can help ensure their children have a safe and fun experience with fun toys for the pool this summer.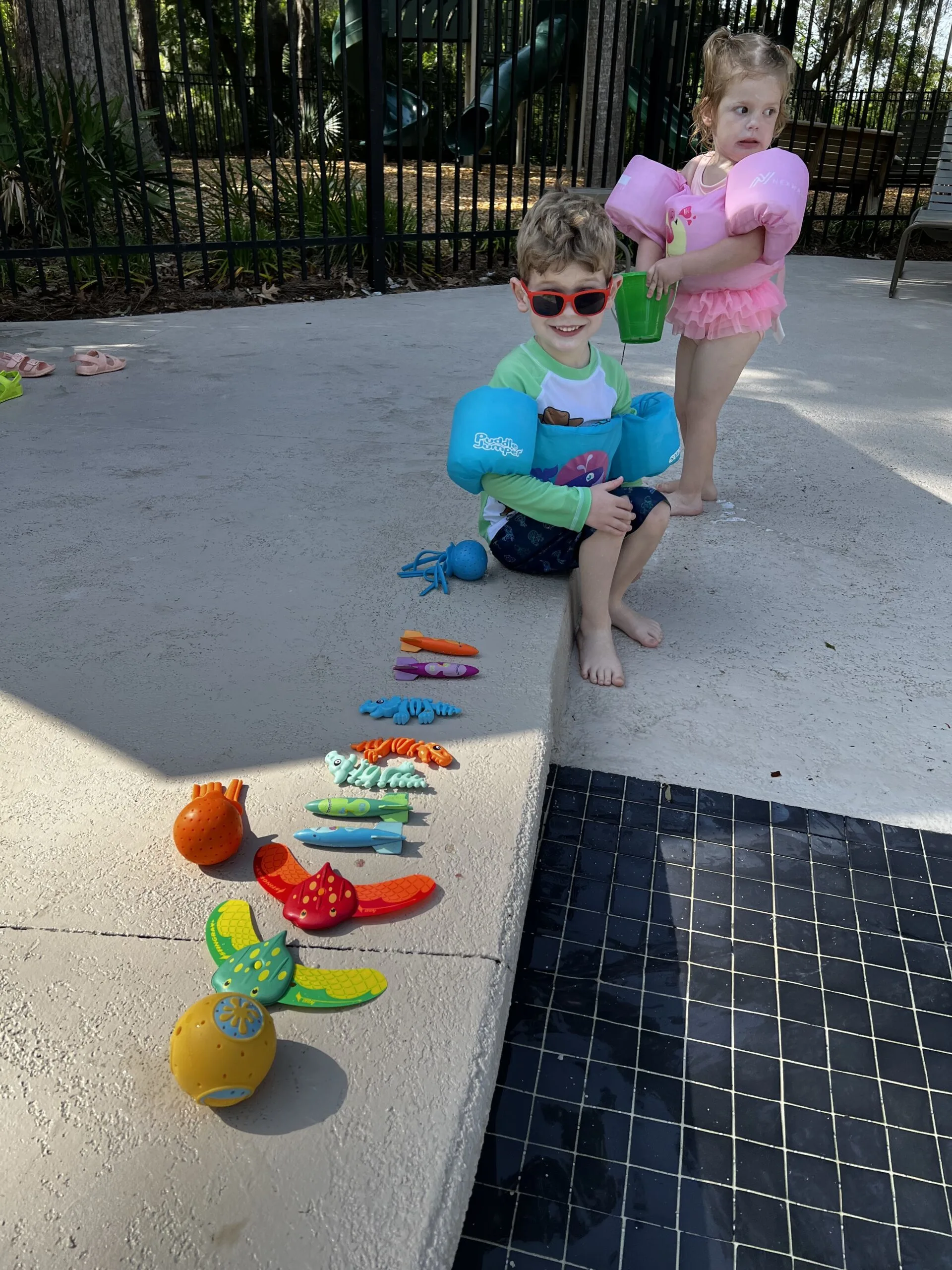 The best pool toys for kids
Our favorite pool toys fall into the following categories:
inflatable floats
water blasters
dive toys
balls
pool games
Inflatable Floats
Blow up floats are a classic pool toy. They can be kind of obnoxious in a crowded public pool, but if you have a private pool or plenty of space in a larger public pool, they are tons of fun.
Inflatable floats come in tons of shapes like unicorns, donuts, and dragons.
Here are some favorites:
Water Blasters
Water blasters are great for kids who want to be active and wild at the pool. There's nothing quite like a squirt fight for making summer memories!
Additionally, playing with water blasters can help improve social skills and teamwork, as children often play together in groups and work together to come up with new games and strategies.
There are tons of different blasters available, from super simple to high-tech.
Here are some favorites: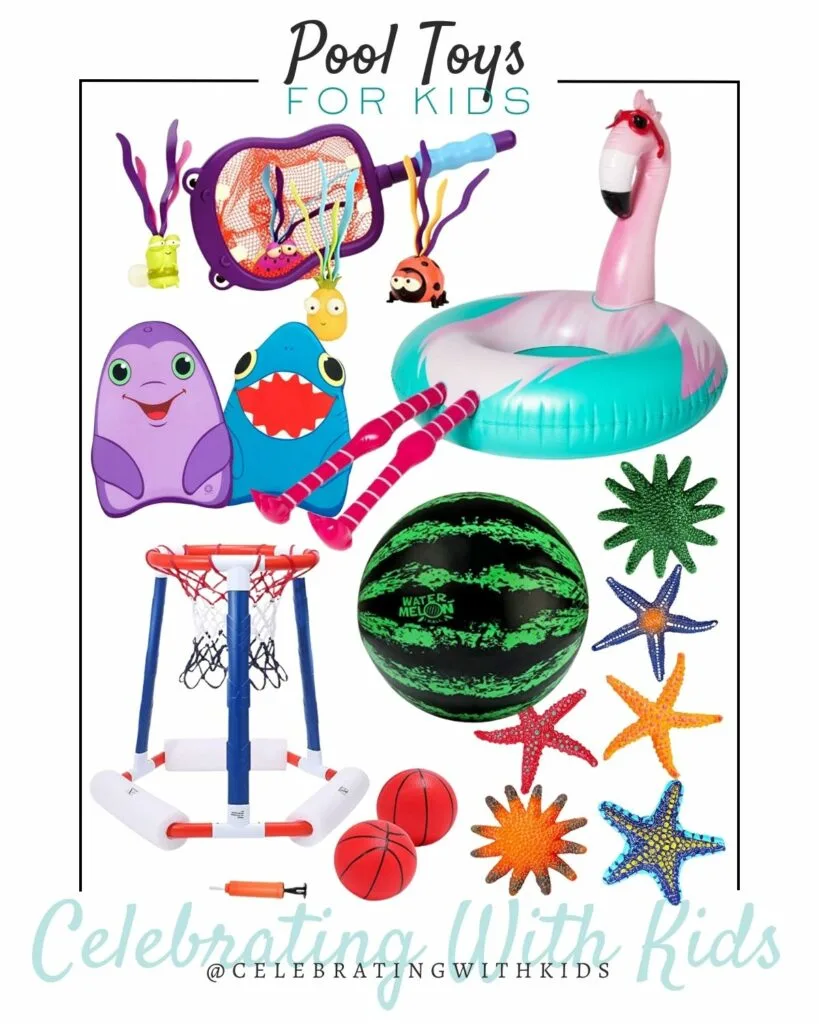 Click to shop all of the pool toys in this image.
Dive Sticks and Rings
Diving toys are another great pool toy staple. They of course have the sticks and rings of our youth, but there are tons more shapes of diving swimming pool toys now, too!
There are even underwater games like a sunken treasure chest or rings you can swim through under water. So many fun pool toys, so little time!
Here are some favorites:
Balls
Balls are another great pool toy. They can be used to play games – like volley ball or basketball – or thrown on their own.
My small kids love squishy splash balls that squirt water and are easy for small hands to throw.
You really can't go wrong with any small, waterproof balls at the pool!
Here are some favorites:
Pool Games
Some of the coolest pool toys are actually games! These games could include volleyball, a basketball hoop, or even floating beer pong.
If you can play it on land from the waist up, chances are it can be played in the pool.
Here are some favorites:
What are your favorite kids pool toys?