Throwing a baby shower? Here's what to consider when scheduling the best time of day for a baby shower!
Hosting a baby shower is really fun, but there is a lot to keep up with.
On top of picking a theme and a date, you also have to pick a time to throw the baby shower!
There's a lot to consider when planning a baby shower – here's how to pick the date and time!
How long does a baby shower last?
Showers usually last 2-3 hours. I really like to keep them to 2 hours.
If you plan to have games or have a ton of presents and open them for the group, it can take longer.
When To Throw A Baby Shower
It's traditional to throw a baby shower around 32 weeks of pregnancy. This is NOT a hard rule. 26-34 weeks is the normal window, but you can do whatever you prefer!
The pros of this are that your belly is large so people can get baby bump pics, but you aren't so pregnant that you are miserable.
You are far enough along that you probably feel safe in your pregnancy, and maybe even know the gender.
Push it too much further and you are getting close to the due date and you risk the baby being born before the party!
Things to consider
Day of the week
It's pretty typical to throw a Saturday or Sunday baby shower. This is when most people have time off of work or school and can easily attend a day-time party.
However, if you are planning a weeknight shower, you might want to consider a later time of day.
Consider the guest list
Think about who is attending and their schedules. If they have small children who nap in the afternoons, a morning might be easier.
Are guests traveling far?
If you have guests day-tripping in for the event, don't make it too early or late. Give them time to drive on either side of it!
Remember the venue
If you are renting a party space somewhere, your baby shower time will be limited by their availability and hours.
Ask the expecting parents
When in doubt, ask the guest of honor if they have a time preference.
Nothing will be perfect for everyone
Remember that you can't make everyone happy. People will RSVP no. It's ok!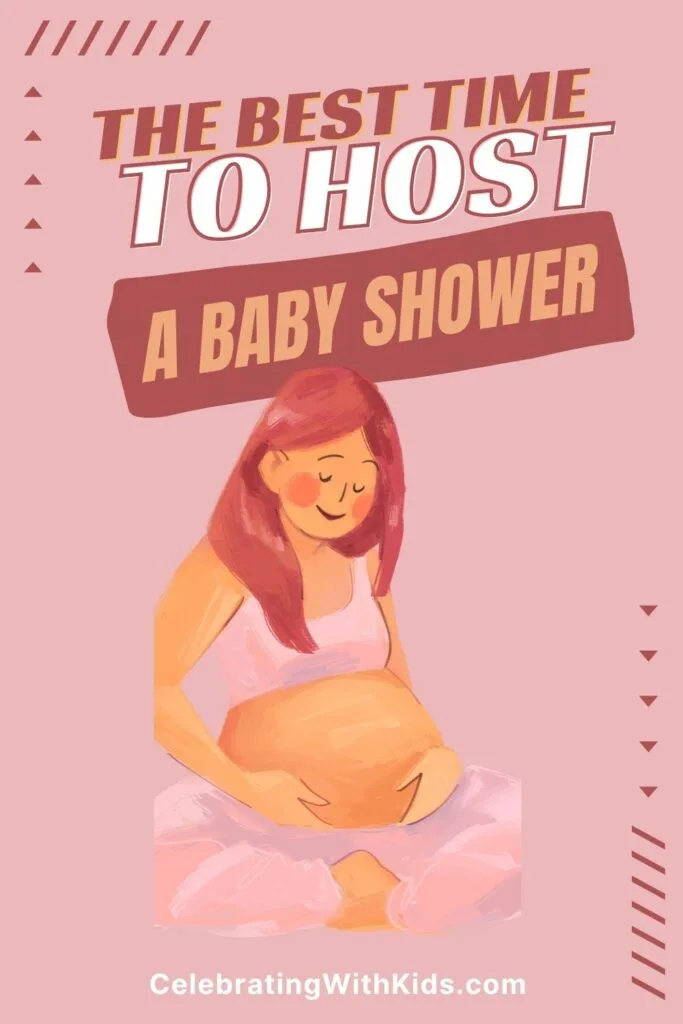 When is the best time of day for a baby shower?
Lunchtime 11am-1pm
Lunchtime is a traditional time to have a baby shower. It can be an ideal time for a baby shower because it's the middle of the day and leaves lots of wiggle room to prep and clean up.
However, if you plan to have a party at lunch time, you will need to serve lunch. Not just finger foods – something filling. This can be costly and more work to set up
Morning – 9am-11am
Morning showers are very popular and great for guests with napping toddlers.
A morning shower could be finger foods but could also be a brunch theme, which is super fun!
The downside of a morning shower is you don't have as much time before to prep such as cook, decorate, or have people drive into town.
Afternoon – 1pm-3pm
Afternoon is my favorite time to host parties and I think is the ideal baby shower time of day.
You can serve snacks-only, and have lots of time to casually set up and decorate before hand.
Plus, guests who are reconnecting at the party can continue on to go get drinks or dinner together! I know that I love seeing friends I don't see often!
Evening – 6pm-8pm
An evening baby shower isn't traditional, but it can totally work in the right circumstances. For example, if you want a BBQ type party (maybe co-ed) then this is the perfect time!
Just know that you will definitely want to serve a full, hearty dinner if you host a party at dinner time!
The most important part of throwing a baby shower is to make the expecting mom feel loved and supported. Keep that at the heart and you can't go wrong!