Looking for the best toys for your ten month old? Maybe a gift idea for a baby in your life? Here are the very best ideas!
I don't know about you, but my baby REALLY got on the move at 10 months old. Not only was he crawling, but pulling himself up and walking along furniture like crazy!
This is when he started really getting into mischief – opening cabinets, unrolling toilet paper, getting into the dog bowl.
It also is a really fun age. He is really starting to seem like his own person. He is able to follow commands a bit and start to play games. And he is always ready for activities!
What's going with your baby at ten months?
Physical Development at 10 months
At ten months old, you baby is probably crawling and pulling themselves up. They can do things like clap 2 toys together and mimic your movements.
Luke went from crawling to standing to moving SO QUICKLY at this age, it was like every day he learned something new. Be prepared and get baby proofed!
At ten months old, Luke really hit a growth spurt! He quickly required 12 month clothing and really started looking big. Be prepared as they are eating more and more real food that they might really grow.
Cognitive Development at 10 months
Your ten month old is getting really smart. One thing that I thought was really cool was that he started to recognize objects in a pile (like his pacifier in a pile of toys) and grab it specifically.
They also are probably getting closer to talking, making a lot of more distinct noises and mimicking your noises. It's so fun!
Even if they can't talk, it seems like they are really listening to you talk and understanding what you are saying.
At ten months old, Luke started being able to respond to commands like "come here" and "no". He didn't verbally respond but would look and stop or crawl towards me. Or, at least smile because he knows he is being mischievous.
Social Development at 10 months
10 month olds love other babies! They are really getting so they want to interact with others – so try to get them together with other babies when you can! Sign them up for classes or take them places where other babies hang out, like the library or parks.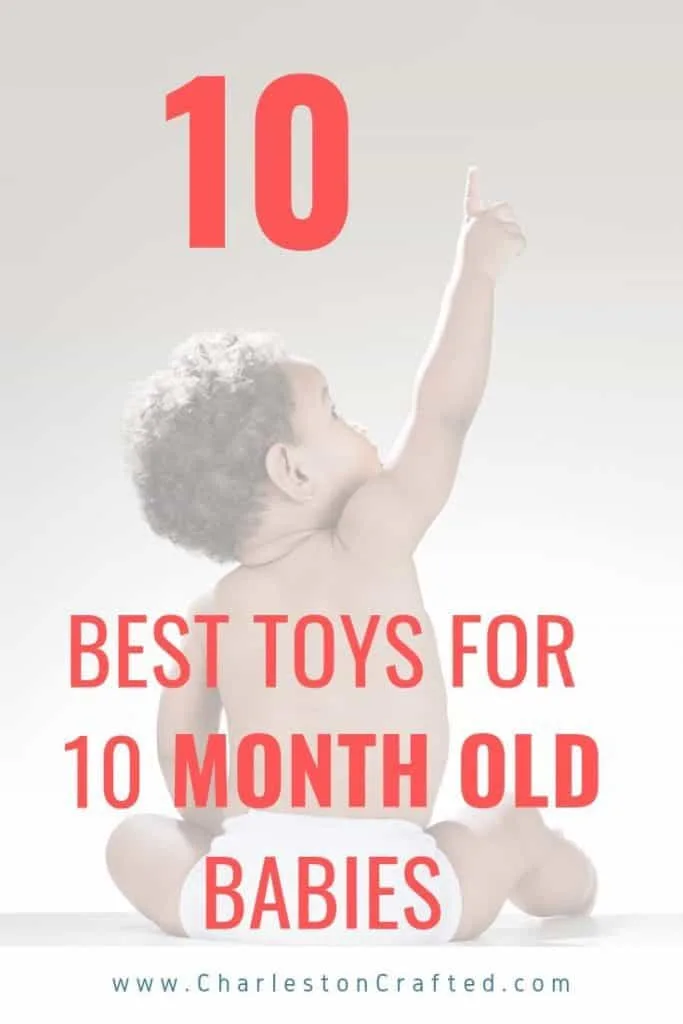 Best Toys for Ten Month Old Babies
Looking for the perfect toy for a ten month old? Whether you need to get a gift or just entertain your own child, you will love these educational toy ideas!
At ten months, Luke LOVED his wooden puzzle. The knobs on this one are perfect for pulling (and lets get real, chewing). He wasn't putting pieces back yet but really loved pulling them out.
Puzzles are great for starting to develop fine motor skills, and these type of jumbo knob puzzles will be useful for at least a year!
These wooden cars were a toy that I thought for sure would be too "big" for him at this age but he absolutely loves!
I roll them at him and he actually rolls them (sort of) on the hard floor or window sill. These are a great toy that he can grow with and use for lots of pretend play!
Ten months is when they start to be able to really figure things out. A shape sorting cube is probably going to be just slightly advanced for them, but it is my experience that giving them something just a little advanced helps to develop new skills. We love this shape sorter!
At ten months old Luke really got into his touch and feel books. He reaches right for the texture! It's pretty fun to watch. All board books in general are great, but anything touch and feel is super appealing.
I actually hate this toy because it sings but of course Luke loves it. It was a grandparent gift (aren't they all) but he has really figured out how to make the guys pop up and loves the lights and sounds.
It's great for helping with hand eye coordination, animal recognition, and he just really enjoys the music. This isn't a push toy but has a pull rope so they can tug it along with them!
So, obviously 10 months is too little to be building with legos. But, these giant Bloks are perfect for a ten month old. He loves to chew on them, but also to knock down towers that we build for him!
It's a decent toy for playing with a baby, too, because you can feel like you are actually doing something while playing. Great for developing imaginative play AND STEM skills.
These are a simple toy, but Luke is still finding so much joy in his stacking cups. I sometimes hide other toys in between the levels when building a tower. He loves it when I put a little toy on top, too! This is a must have toy and works great in the bathtub, too.
This wheel is meant to stick on the table at a restaurant as a great way to keep your baby occupied. There is actually a low window in Luke's play pen so we stuck it to the window. It's perfect for little hands and they really find it mesmerizing.
He got it younger but ten months was about when he really got good at spinning it himself. It's perfect for this age group! He LOVES it great bang for your buck!
So, the Dimpl is a toy that I heard about and actually bought when Luke was really little. Well, once he turned ten months was about when he could really start doing it! The soft rubber circles pop back and forth. He also of course loves to chew on them! This is my "purse toy" that I take everywhere and hand to him to keep him occupied. It rocks!
We first discovered these egg shakers at the library and oh man were they a huge hit! They make a great shake shake noise and are perfectly sized for baby hands.
You might have to show them how to shake them at first, but they catch on quickly! Musical toys are really great for kids in the 6-18 month range.
This is a bonus idea for you – a basket! At ten months, Luke got so into reaching into baskets and pulling out his favorite toys. It brought him so much joy! Definitely pick up some bins or baskets for your little one to play with.
Are there any awesome gift ideas that I forgot?