Want to add a play couch to your kids' toy collection? Here's our complete Kiddie Couch Play Couch Review!
Play couches are one of my favorite ways to get my kids playing indoors. They allow kids to be physical and creative, to get a bit wild, and to use their imaginations.
It's always fun to try out a new play couch, and that's why I was so excited when Kiddie Couch reached out and asked us to give their play couch a try.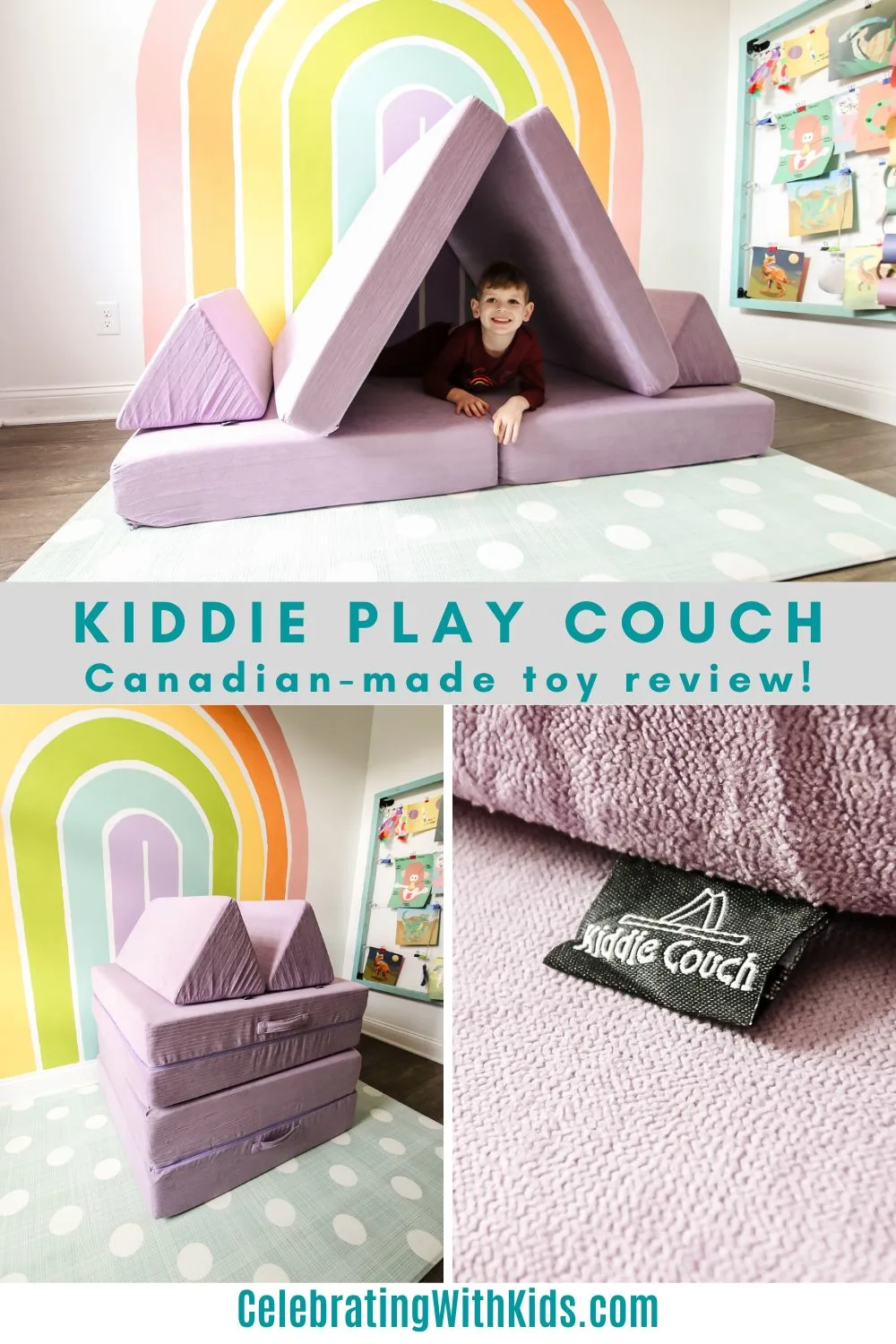 Kiddie Couch Play Couch Review
I was so excited to get my hands on a Kiddie Couch! Here are my thoughts after having my kids play with it and checking it out myself!
What is the Kiddie Couch?
The Kiddie Couch is a Canadian play couch brand. They offer a beautiful, high quality play couch in addition to several add-on piece sets for kids to play with.
What do I love about the Kiddie play couch?
There are a few things that set Kiddie Couch apart from other play couches.
The first thing that I noticed when I got my hands on it was the super luxe fabric and high quality materials. It really feels like a high end, well made play couch.
We've tried out several play couch brands, and this was the softest fabric we've seen. It makes it stand out compared to the others.
I also really like that the smaller square cushions are made of the same material as the bigger ones, which is different compared to other brands that make the smaller cushion with a less-dense foam.
I love all of the add-on pieces available – these extra shapes and designs really allow for kids to get creative and build unique set ups!
Another thing is that they are a Canadian brand. If you are Canadian, this can be a big money saver – and a great personal choice to shop Canadian.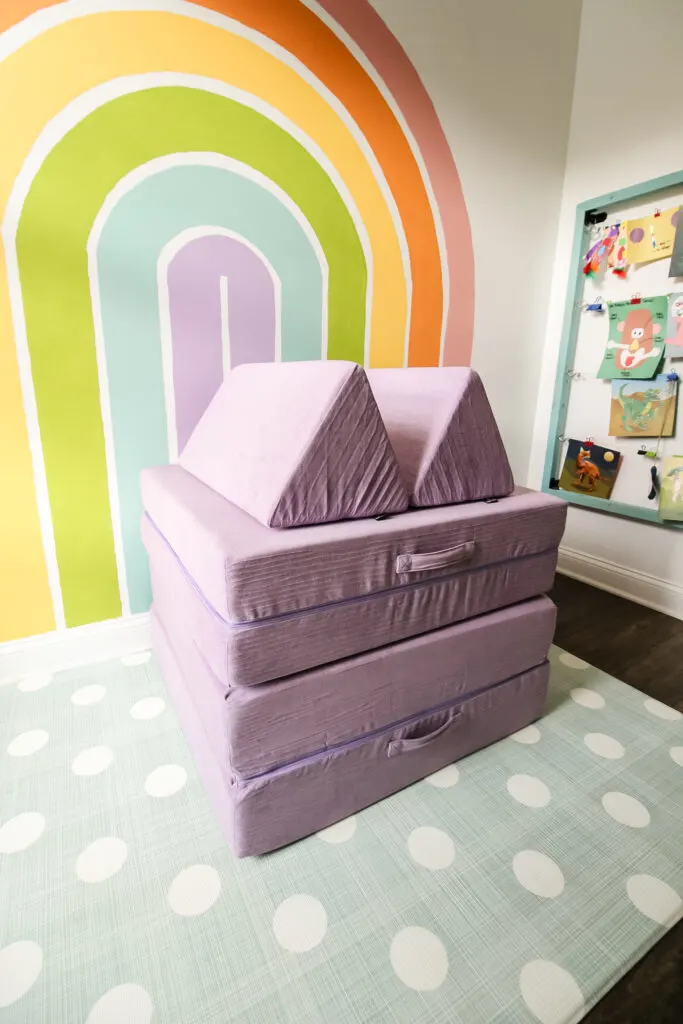 What are the parts of a Kiddie play couch?
The Kiddie couch includes:
•1 Base
•1 Cushion
•2 Support Pillows
There are also add-on sets available. They include:
Add-Ons! The Ultimate Expansion Kit – 2 armrests/pillars and 2 footrests/stepping stones
Rockers – 2 semi-circles
Climbing Slides – 2 wedges
Archways – 2 arches + 2 doors
Banner pack – transform your play couch into Coffee Shop, Pizza Shop, Ice Cream Truck, Camper, and Hospital.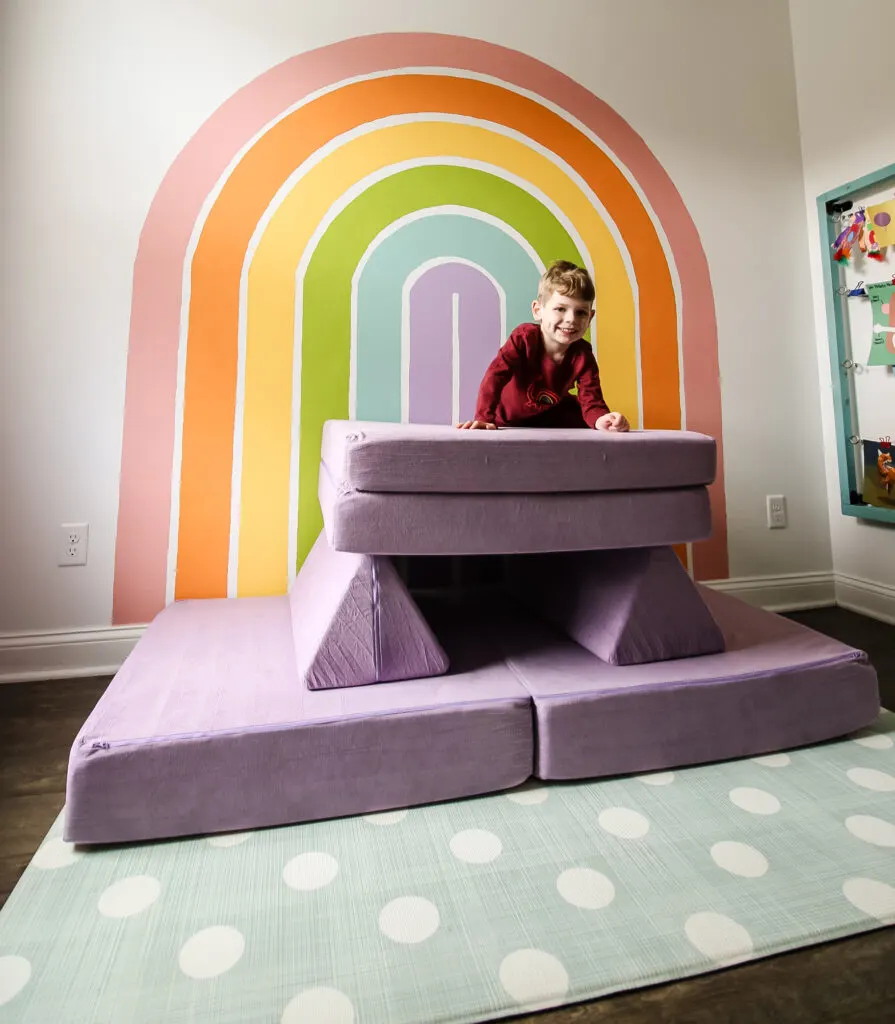 Cover Material
I really love the cover material of the Kiddie Couch. It is different from any other couch that I have tried – more velvety, but still super smooth.
They describe it as a water/stain repellant microvelvet. The fabric definitely feels luxe and upgraded to me.
This couch also has the little pockets to tuck the zipper heads into when fully zipped up. This is so important for keeping little fingers out and preventing the zippers from scratching up your walls!
The handle is also made with the same material as the couch, not a separate material sewn on. This makes it more cohesive and soft.
Washability
The covers are fully removable and machine washable. I definitely recommend hang drying them and not putting them in the dryer to be sure they stay in top condition.
I also love that the fabric of the covers is moisture repellant. Liquids bead up and can be wiped away, which helps to make clean up easier. It's nice to be able to wash them – but even nicer to not have to wash them too often!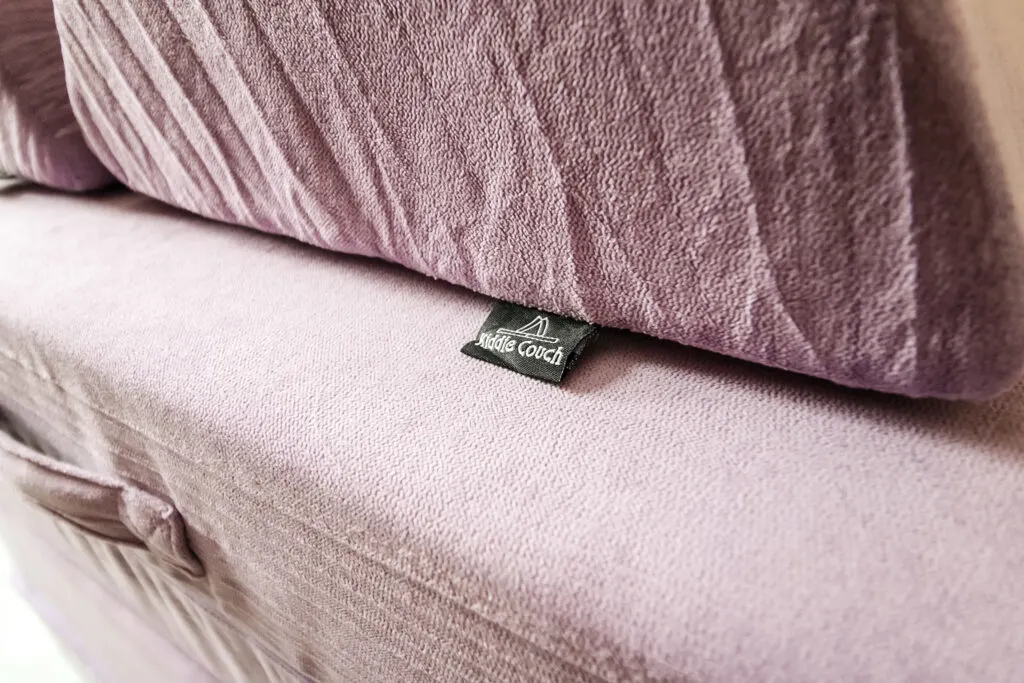 Foam
Another thing that I noticed about the Kiddie Couch compared to other play couches is that both large rectangular pieces are made of a firm, sturdy foam.
Technically, the base piece is made of "high density" foam and the cushion is "medium density" foam. But, I will say they are both very sturdy and feel the same to the touch.
Some other brands have the thinner piece more of a soft "topper" type foam.
I really like the firmer foam. It is much, much sturdier for builds and holds up a lot better to wild play compared to the thin foam that bends when stood on its ends.
There is no significant difference in comfort when sitting on the foam, so I definitely think that the double firm foam is the way to go!
Also, the foam is CertiPUR-US® Certified (the gold standard for foam).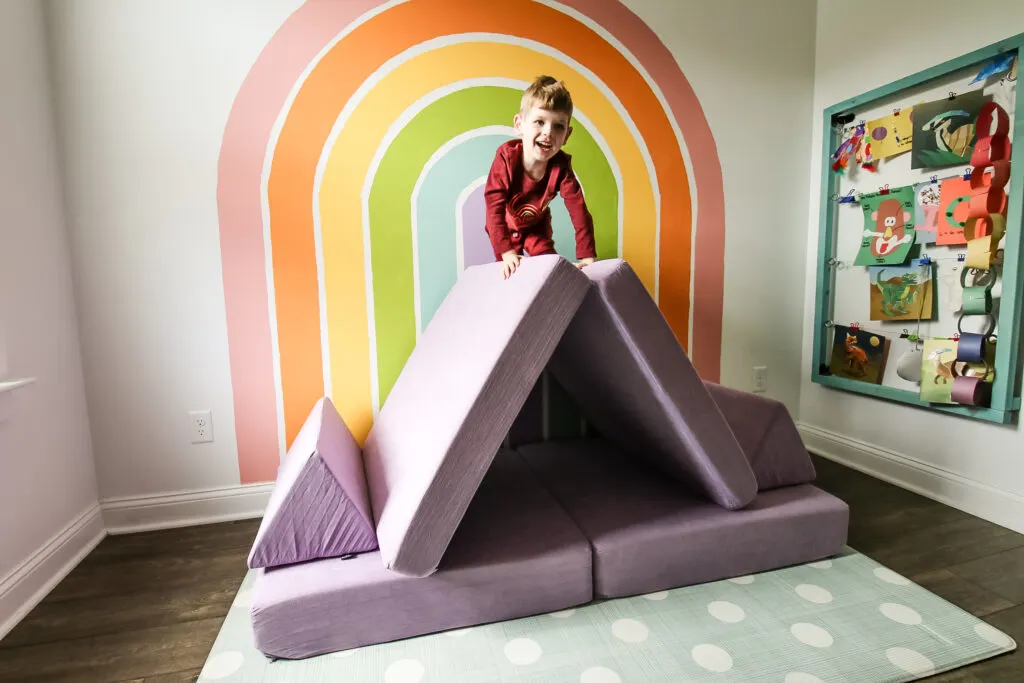 Colors
The Kiddie Couch comes in:
koala gray
emerald green
pacific blue
sand beige
jet black
blush pink
orchid purple (that's what we have!)
Size
The combined dimensions are 67" L x 33" W x 23" H. This is standard for a play couch.
The combined weight is 30lbs.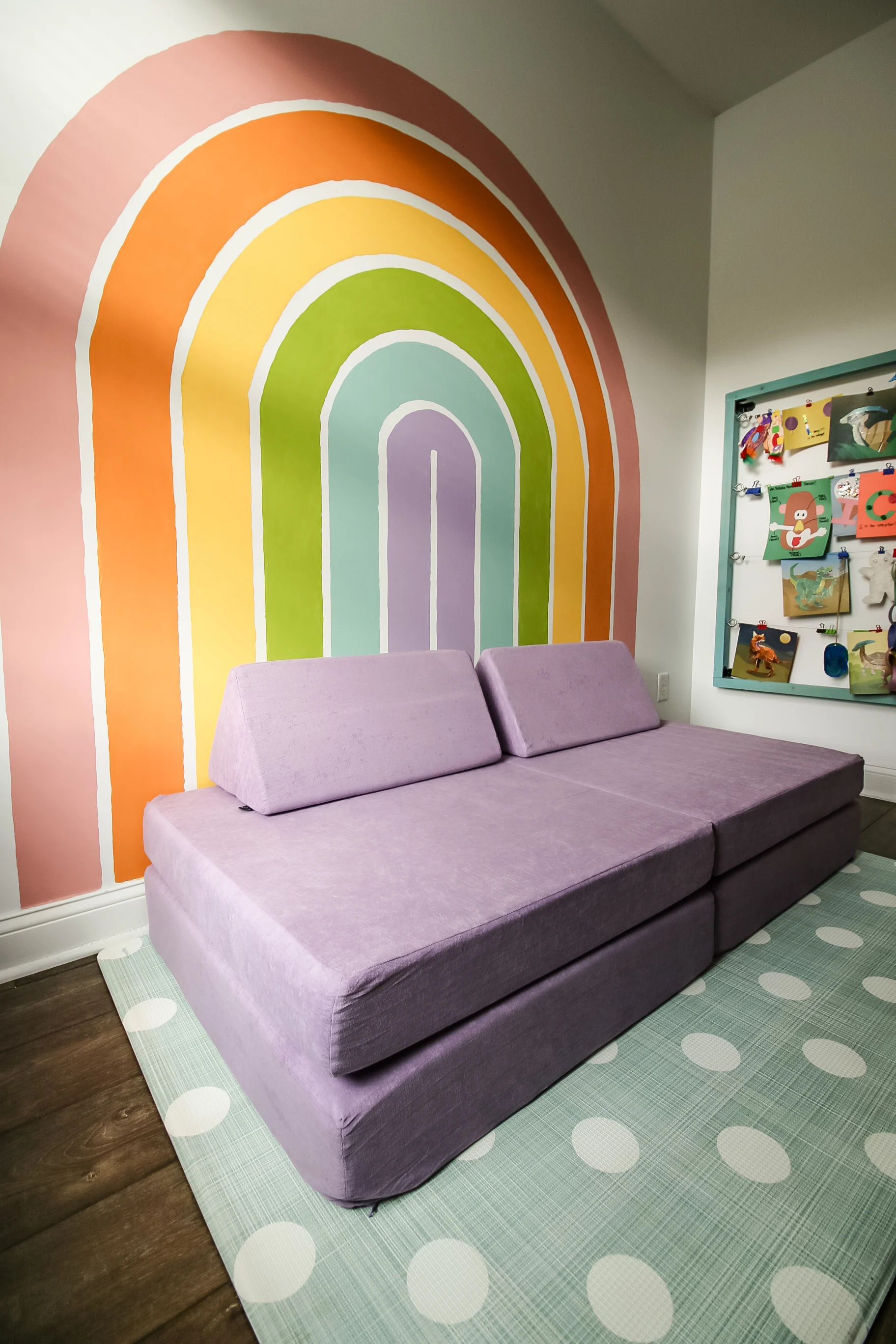 Ease of purchase & delivery time
Kiddie Couches are ready to ship. All orders currently ship out within two days from Canada. Shipping is free to Canada and the USA.
Our order came quickly and without issue via UPS!
Price
The Kiddie Couch is priced at $269 USD or $349 Canadian. This is on par with the average play couch cost.
The add-ons range from $79 to $169 and really are my favorite part of the couch. There are so many options to choose from – and all would make for fun imaginative play opportunities!
This couch is a very high quality and therefore a great value for the money, especially if you are located in Canada!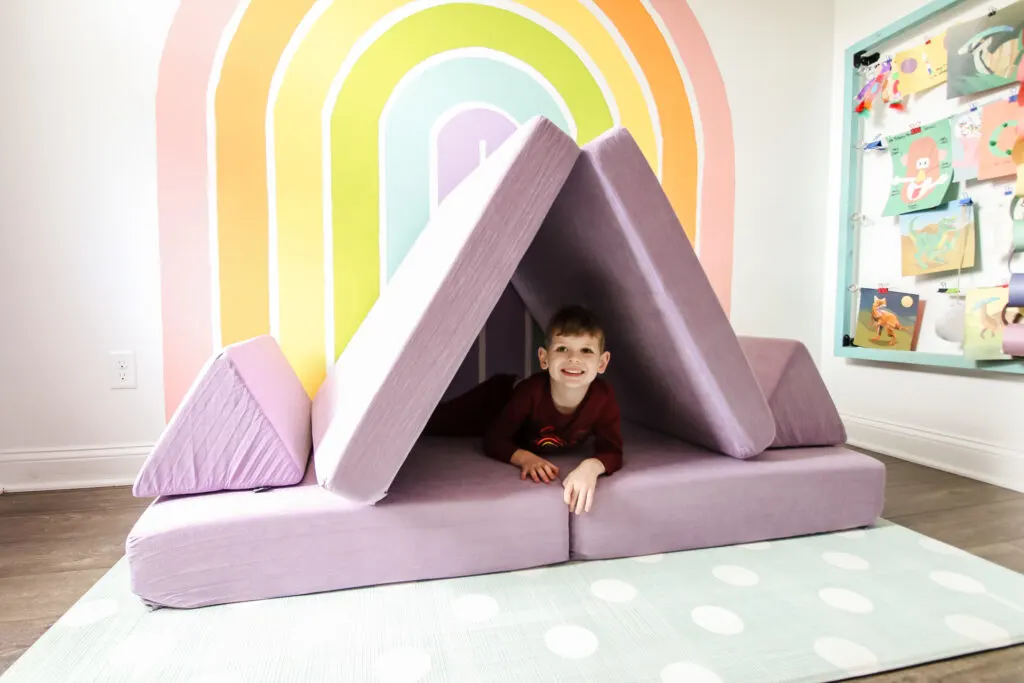 Overall Thoughts
The Kiddie Couch is a great, high quality play couch option. I especially recommend it if you are Canadian and are looking for a local buy.
I also highly recommend it if you are interested in unique add-on pieces. They have so many options to choose from – it really is fun and exciting!
Any questions about the Kiddie Play Couch?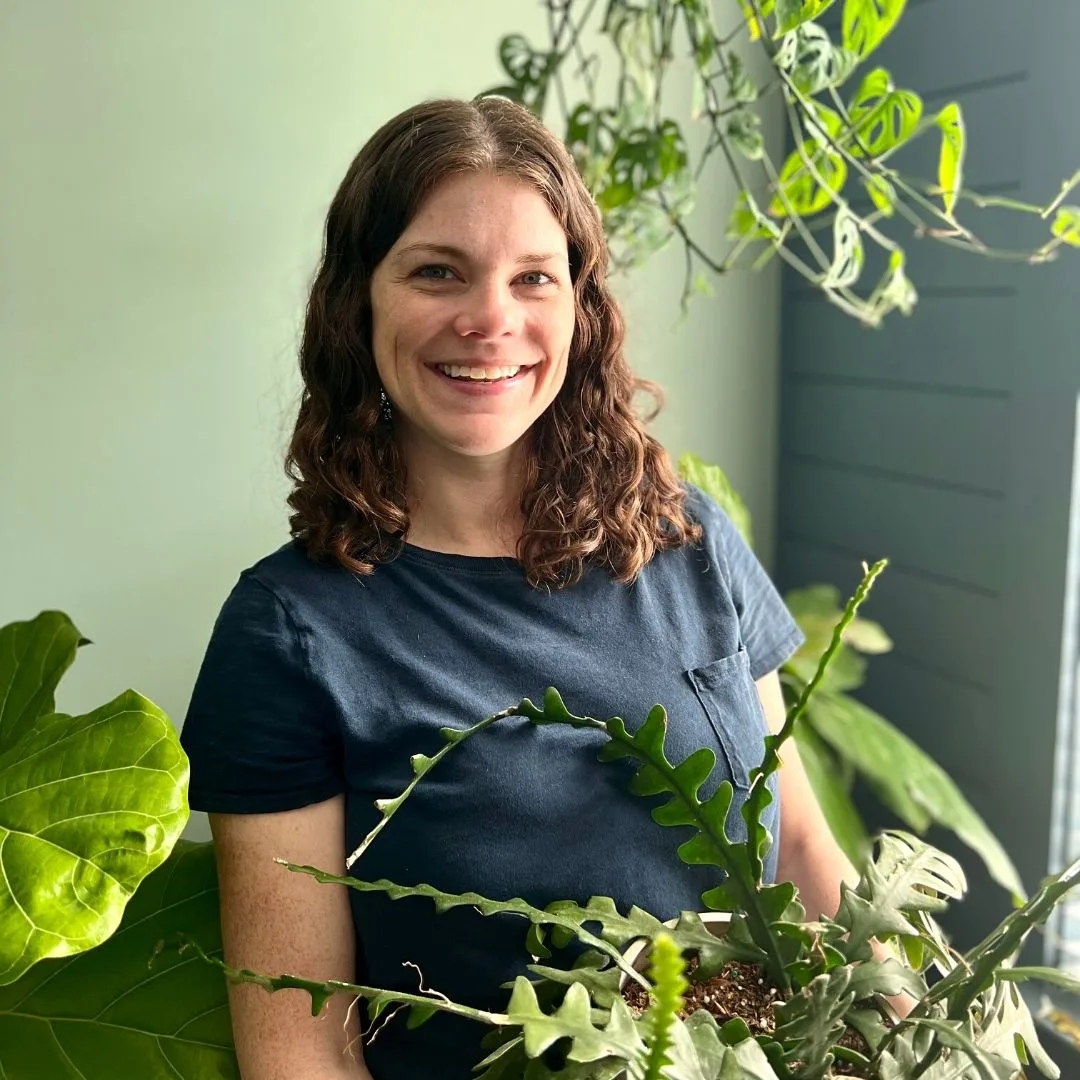 Hey there, I'm Morgan, the creative mind behind CelebratingWithKids.com! As a parent of two lively little ones, I've made it my mission to turn ordinary days into extraordinary adventures, sharing playful activities, thoughtful toy reviews, and delightful printables to help families celebrate every moment together. 🎉👨‍👩‍👧‍👦🎈